THE INVESTIGATORS: Fired trooper accused of shooting a teen takes plea deal
Published: Sep. 12, 2022 at 11:30 AM CDT
|
Updated: Sep. 12, 2022 at 4:17 PM CDT
BATON ROUGE, La. (WAFB) - A former Louisiana State Police trooper has taken a plea deal more than four years after she was accused of shooting a teenager.
Kasha Domingue was fired in March 2021 after a grand jury indicted her in October 2020 on charges of aggravated second-degree battery and illegal use of a weapon. This stems from a traffic stop in July 2018 where Domingue shot teenager Clifton Scotty Dilley, then 19, behind a store on Perkins Road. Dilley was a passenger in a car that was stopped for an illegal U-turn. The shooting left him paralyzed.
As part of the plea deal, the state amended the former trooper's charges to obstruction of justice. Domingue was sentenced to six months in parish prison with credit for time served plus unsupervised probation for six months. Her sentence was suspended, meaning she will not serve any time behind bars. She will also never be allowed to work in law enforcement again.
"She'll never able to do police work. No gun handling, no park ranger, no counseling.. none of that," said Dilley.
Domingue shot Dilley in the back as he was running away. Prosecutors say she never tried to render aid and it took about eight minutes for another officer to arrive. Dilley says he is not hung up on the sentence for Domingue. Instead, he wants to make sure what happened to him never happens to someone else.
"I'm cool with that because I mean again, I'm going for more of the bigger picture here," said Dilley.
According to prosecutors, the former trooper made several inaccurate statements related to the case. Those attorneys say she did not have a dash cam at the time of the incident and the body camera she was wearing was not working. Prosecutors argue that had surveillance video from a nearby store not been working, her false statements would have severely affected the case.
WAFB's Scottie Hunter asked Dilley if the video was a saving grace in the case.
"Yeah," Dilley said. "Otherwise, I would have been charged with what'd she say? Charging her armed and I was just a scared kid that ran with a phone in his hand."
Attorney Don Cazayoux represents Dilley and he agrees that the surveillance video really solidified their case.
"Her story was pretty incredible and again, without the video we wouldn't know that truth. She called it in as a taser event and then she proceeded to say that Scotty tried to attack her," said Cazayoux.
Domingue's attorney, Tommy Dewey, says the plea deal was not perfect but it was necessary. He also says that one night should not define Domingue's otherwise spotless career of service to the community and her country.
"She was a marine. She's given to charity. She's been very active and was an EMT," said Dewey. "So all of her different activities have been geared toward helping people and when something like this happens, it's unfortunate for everybody involved."
When asked if Domingue was remorseful for what happened, Dewey said of course she is.
"Well of course she's sorry that the incident occurred the way it did but there was.. obviously if it had went to trial there were some things that would come into play there and a lot of moving parts," said Dewey. "There's a lot of things that would have come out and again that's why we were able to work toward a resolution. It wasn't a perfect scenario by anybody.
"While changes have been made at the top of LSP, Dilley's mother, Deborah Higginbotham, says she wants more than just words but she wants a guarantee that law enforcement will never treat anyone the way her son was treated by Domingue.
"Lamar Davis has made some changes but I think that he needs to make them be an action," said Higginbotham. "There's one thing to have a policy written on a paper but it's another thing to make your police officers and troopers accountable for those policies when they're out there on the streets protecting our citizens."
Dilley and his family say now that criminal case is resolved, they look forward to continuing their legal fight in federal court with their civil case against Domingue and LSP.
Below is a statement from Don Cazayoux of the Cazayoux Ewing Law Firm. He represents Dilley.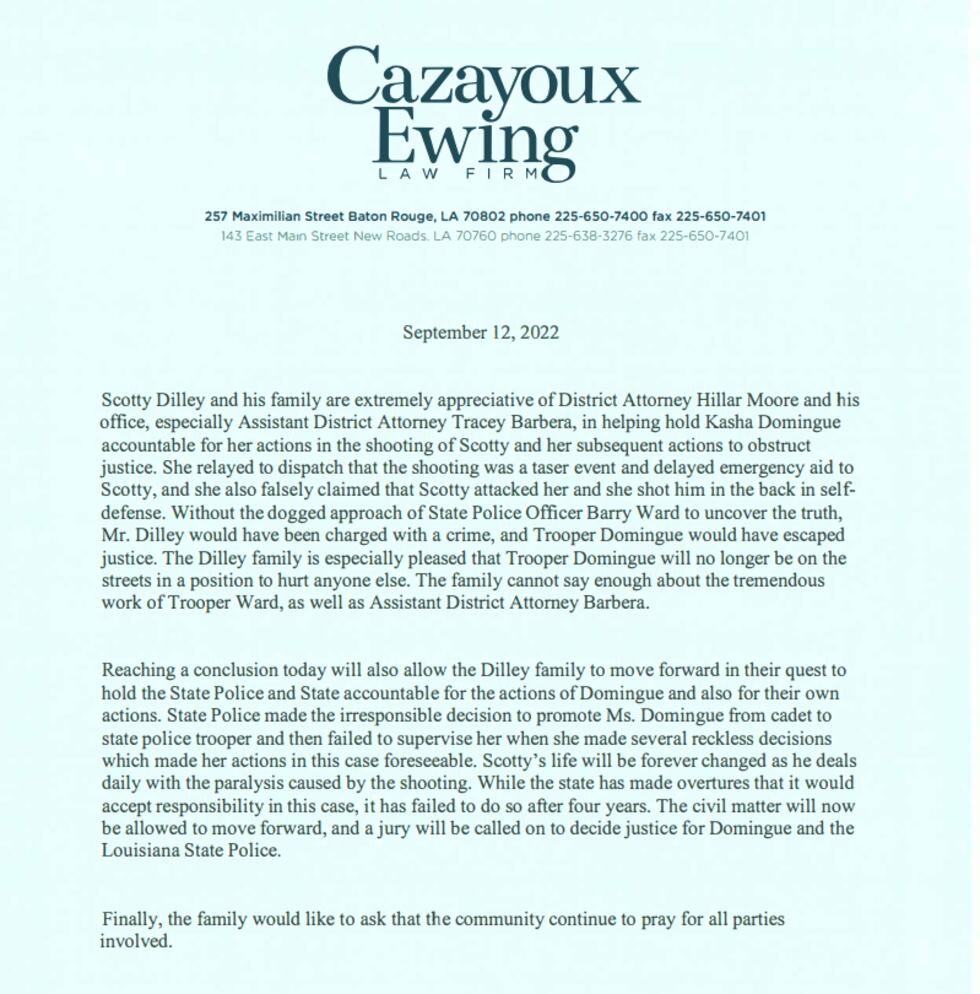 Click here to report a typo.
Copyright 2022 WAFB. All rights reserved.