Wall Street ends mixed after erasing a big morning loss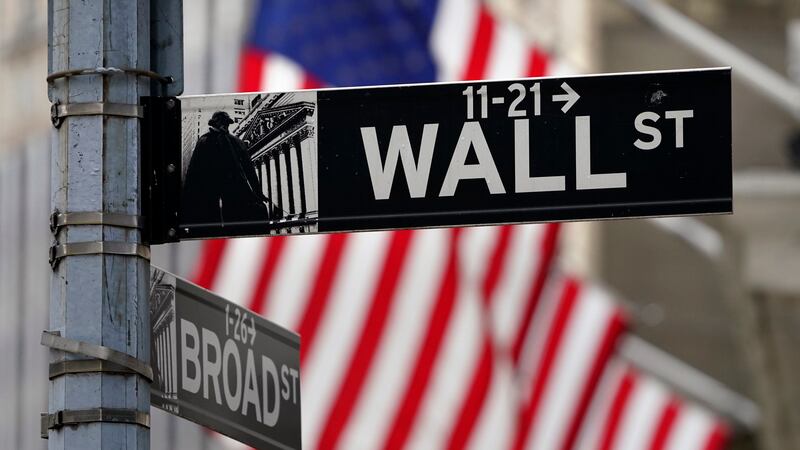 Published: Jan. 25, 2023 at 4:43 PM CST
NEW YORK (AP) — Another roller-coaster day left Wall Street essentially where it began on Wednesday after stocks veered on worries about how badly a slowing economy will hit corporate profits.
The S&P 500 finished virtually unchanged, but only after it tumbled to a morning loss of 1.7% and then roared all the way back. The Dow Jones Industrial Average erased a 460-point loss to finish up 9 points. The Nasdaq composite fell 0.2% after coming back from a 2.3% drop.
Such big swings have been common on Wall Street as markets work through a couple competing big ideas. On one hand, worries are rising about weakening profits and an economy bending under the weight of hikes to interest rates by the Federal Reserve. On the other are hopes that the economy can avoid a severe recession and that cooling inflation will get the Fed to take it easier on rates.
"There's this Jekyll and Hyde market day to day," said Anthony Saglimbene, chief market strategist at Ameriprise. "What narrative is driving the market: a soft landing or harder landing?"
In the morning, the latter was driving trading.
Microsoft helped to lead the way lower after giving a forecast for upcoming results that fell short of some analysts' expectations. They pointed in particular to expectations for slowing growth in its Azure cloud business.
Microsoft is one of Wall Street's dominant stocks because it's one of the largest, which gives its stock movements more sway over the S&P 500 than others. Not only that, analysts say Microsoft offers one of the best windows into the strength of corporate spending because of how many businesses use its software and services.
Microsoft fell as much as 4.6% in the morning before paring its loss to 0.6%. Its weaker-than-expected forecasts helped drag down other stocks in the cloud-computing industry in the morning. Snowflake fell as much as 7.9%, for example, before it pared its loss to 0.9%.
Worries are rising that corporate profits are set to shrink broadly because of a slowing economy, higher interest rates and still-high inflation. Analysts are forecasting S&P 500 companies over the next couple weeks will report their first drop in quarterly earnings per share since 2020, when the pandemic was crushing the economy. More cuts to estimates may be on the way for the first half of 2023.
"Analysts have been too rosy for the profit outlook for this year," Saglimbene said. "As these companies are reporting, they're giving very realistic and more downbeat assessments of what the demand outlook is going to look like this year, and there's the realization that economic activity is slowing, profit growth is likely slowing and maybe even turning negative. And I think stock prices are adjusting to that."
Texas Instruments fell as much as 3.1% despite reporting stronger profit and revenue for its latest quarter than expected. Markets were more interested in the company's forecast for the first three months of 2023. Company officials said they're expecting continued weakening in demand across all its markets outside of automotive. Its stock ended up paring its loss to 1.1%.
On the winning side was AT&T, which rose 6.6% after reporting a stronger profit than forecast.
Shares of electric-vehicle maker Tesla shook off a morning loss of as deep as 4% to rise 0.4% ahead of its earnings report, which arrived after trading ended for the day. That helped to steady the market given Tesla's large size.
All told, the S&P 500 slipped 0.73 points, or less than 0.1%, to 4,016.22. The Dow rose 9.88 points, or less than 0.1%, to 33,743.48, and the Nasdaq fell 20.91 points, or 0.2%, to 11,313.36.
The level of cash and profit that companies produce is one of the main levers that set stock prices on Wall Street. The other big one depends largely on interest rates, and there's still a wide disconnect between what investors and the Federal Reserve see as coming later this year.
Nearly everyone is expecting the Fed to raise its key overnight interest rate by 0.25 percentage points on Feb. 1. That would be another downshift in the size of the Fed's rate hikes, down from 0.50 points last month and four straight increases of 0.75 points earlier. A slowdown in inflation since a summertime peak is raising hopes for the Fed to apply less additional pressure on the economy.
Many investors expect inflation to keep cooling, and they're betting on the Fed to actually begin cutting interest rates toward the end of this year. The Federal Reserve, meanwhile, says it wants to keep rates high at least through the end of the year to ensure high inflation is truly stamped out.
Higher rates hurt the economy by making it more expensive for businesses and households to borrow. They also hurt prices for stocks and other investments.
The yield on the 10-year Treasury, which helps set rates for mortgages and other economy-dictating loans, dipped to 3.44% from 3.46% late Tuesday. The two-year yield, which moves more on expectations for the Fed, fell to 4.14% from 4.21%.
Copyright 2023 The Associated Press. All rights reserved.