Knicks rout Pelicans while honoring 1973 championship squad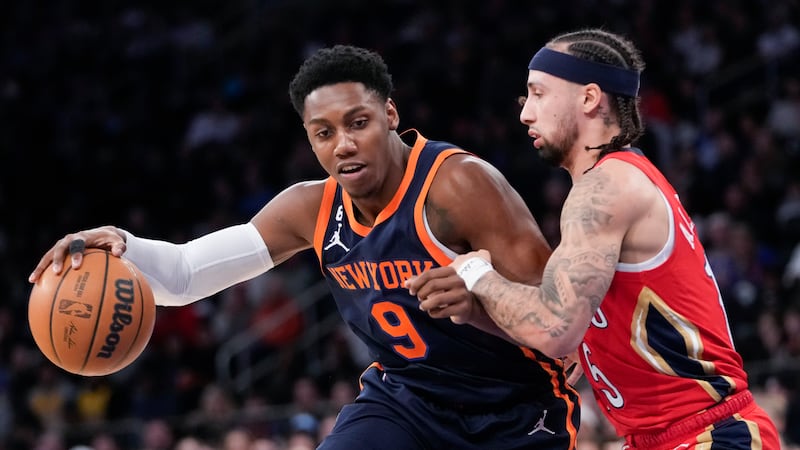 Published: Feb. 25, 2023 at 9:28 PM CST
NEW YORK (AP) — Julius Randle scored 28 points to lead New York to a 128-106 rout of the New Orleans Pelicans on Saturday night as the Knicks celebrated the golden anniversary of their 1972-73 NBA championship team.
Six players scored in double figures for New York, which won its fifth straight. R.J. Barrett had 25 points and a season-high seven assists. Jalen Brunson added 20 points, Josh Hart scored 15 points, Immanuel Quickley added 13, and Mitchell Robinson finished with a double-double of 11 points and 13 rebounds.
Brandon Ingram scored 19 points for the Pelicans, who lost their third straight and fourth in five games overall. Josh Richardson added 16 points, C.J. McCollum finished with 13 and Jonas Valanciunas had 12 points and 10 rebounds. Trey Murphy III scored 11 off the bench.
New York was playing the second half of a back-to-back, coming off a 115-109 win over the Wizards a night earlier in Washington. Meanwhile the Pelicans last played Thursday, falling 115-110 loss to the Raptors in Toronto.
The Knicks came out looking like the fresher team, building a 42-26 advantage after the first quarter, and extending the lead to 73-52 at halftime.
Randle (19), Barrett (13), and Brunson (12) combined for 44 points as New York shot 54.3% from the field (25 for 46) and 50% from 3-point distance (13 for 26). New York's 13 3-pointers in the first half matched a season high.
The Pelicans trailed by as many as 27 points midway through the third. Despite going on a 19-12 run to close out the period, New Orleans trailed 102-82 entering the fourth.
New York opened the fourth with a 12-8 spurt, highlighted by Robinson's one-handed alley-oop dunk. And Randle's two-handed dunk off of Quickley's off-the-backboard-pass all but ended any hopes of a comebacky by the Pelicans.
New Orleans lost reserve forward Larry Nance Jr. in the second quarter with a sprained left ankle. He did not return. Nance was defending Quickley and landed awkwardly while attempting to contest a layup. Nance was down on the court for a few minutes and had to be helped to the locker room.
See a spelling or grammar error in our story? Click Here to report it. Please include the headline.
Copyright 2023 WVUE. All rights reserved.