OpTic Gaming wins third consecutive Halo Infinite title at HCS Charlotte Major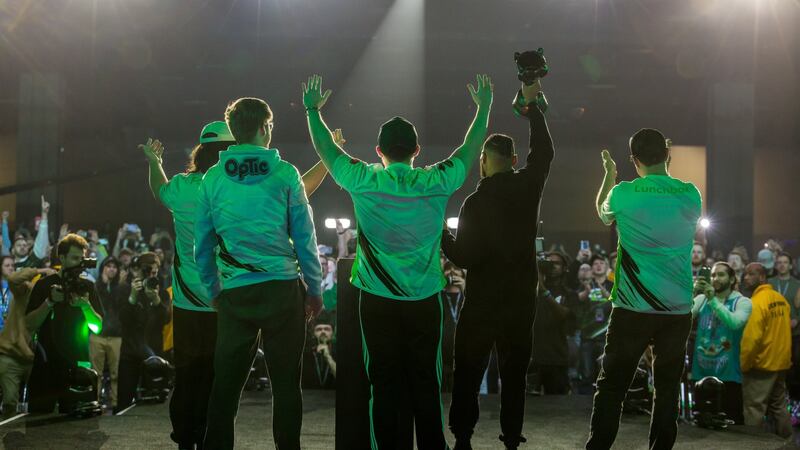 Published: Feb. 28, 2023 at 5:46 PM CST
(Gray News) - OpTic Gaming continues to dominate the Halo Championship Series (HCS), winning the kickoff Major of the 2023 season in Charlotte this past weekend. OpTic finished the 2022 season by winning the HCS World Championship on the heels of winning the final regular season Major in Orlando, meaning they are undefeated through three consecutive HCS Major tournaments.
The roster has remained the same from the end of last season, with the starting four being Matt 'FormaL' Piper, Bradley 'aPG' Laws, Tommy 'Lucid' Wilson, and Joey 'Trippy' Taylor, with Jason 'Lunchbox' Brown taking the role of coach.
OpTic looked relatively untouchable during bracket play, only dropping one map through the first two rounds of the winners' bracket. But another notable team also accomplished the same feat. FaZe Clan has entered the new season with an all-star roster that stacks up well with OpTic.
In January, FaZe acquired Bradley 'Frosty ' Bergstrom, Mathew 'Royal2′ Fiorante, and Paul 'Snakebite' Duarte from Sentinels, a team that saw considerable success at the front end of the 2022 season. Their head coach on Sentinels, Chris 'Royal1′ Fiorante, also switched to FaZe. Jonathan 'Renegade' Willette, the last remaining member of the old FaZe roster, completes the new starting four.
FaZe Clan's new roster got their first shot at OpTic in the Winners Finals. Faze took map one with a 2-0 in Oddball as well as map two in a tightly contested 50-48 Slayer. OpTic closed out a map three win in King of the Hill (KotH) to avoid a 3-0 sweep. Gaining momentum, OpTic took map three Capture the Flag (CTF) 3-2 in overtime due to some well-placed grenades and a clutch flag handoff from Trippy to aPG. In map five Slayer, it was evident that OpTic was picking FaZe apart. Even a late-round surge from FaZe couldn't stop OpTic from closing out the reverse sweep and moving on to Grand Finals.
FaZe would not be deterred, however. They quickly dismantled Space Station Gaming in the Losers Finals and moved on to once again face OpTic, this time in the Grand Finals. Grand Finals is a best-of-seven with a potential bracket reset, meaning if FaZe Clan wins the first best-of-seven, the match will reset, and another best-of-seven will be played.
FaZe Clan kicked off Grand Finals with a map one Stronghold win. Renegade resisted a late-round push from FormaL and Trippy to hold on to the B point, winning them the map 250-205. OpTic remained calm and took an effortless 50-34 Slayer victory on map two, followed by a controlled 2-0 Oddball triumph on map three.
Map four saw FaZe force double overtime in KotH. FaZe pushed onto the hill in the last moment of regular time and held off OpTic to tie up the score, leading to game time extending two minutes. Neither team could capture the final hill, ending the map in a tie. When this happens, the map score resets, and the first team to control two hills wins. In this case, FaZe pulled it out.
Map five saw Lucid go quadruple positive, referring to his elimination/death ratio, helping OpTic get another map victory. FaZe refused to roll over and managed a disciplined effort in CTF to take map six.
OpTic and FaZe played a calculated Slayer on map seven. Both teams circled each other, rarely switching the spawn points. Players stayed close to each other, only breaking away briefly to clean up a kill if their teammates had them covered. It was clear that breakaway moments would be scarce. The score difference during the entire map fluctuated between three kills at most, with a singular kill being the average difference in score. With four minutes left in the round, FaZe was in control 29-27, and it looked like they were going to hold on and force the bracket reset.
With just over two and a half minutes left, OpTic made their move. Trippy managed to get behind Renegade, taking him out with a rocket just as aPG won his fight with Royal2, putting OpTic ahead 30-29. FaZe took too long to gather themselves for a final push, and as the last seconds ticked down, OpTic emerged on top with a 42-41 final score. After the dust settled on an enthralling Grand Finals, OpTic Gaming was declared the HCS 2023 Charlotte Kickoff Major Champions.
Gray Television is an investor in OpTic Gaming.
Copyright 2023 Gray Media Group. All rights reserved.