Zurik: Contract for Cantrell mailer reveals possible misuse of taxpayer money
Updated: Mar. 8, 2023 at 10:05 PM CST
NEW ORLEANS (WVUE) - FOX 8 obtains a new document that councilmembers say raises even more questions about the $64,884 in taxpayer money that Mayor LaToya Cantrell's administration spent for a mailer that touted Cantrell's successes. The council voted Wednesday to launch an investigation into the public money spent on the mailer and says the newly obtained document will be at the center of the investigation.
The document is a draft contract with Mercury LLC. The national company was hired to design the mailer. However, an invoice shows the Cantrell administration paid Mercury $13,938 for the work, apparently without a signed contract. Mercury invoiced the city for the work on Dec. 31, 2022. The latest draft of the contract is dated the next day, Jan. 1, 2023, and it still hadn't been signed.
Council vice president Helena Moreno and councilmember Joe Giarrusso say the contract raises questions about whether proper procedures were followed before the work was executed.
"What I'm starting to learn now is that maybe this contract was executed, but why did it never get to the law department?" Moreno asked. "Is it only still in the mayor's office for some reason?"
Giarrusso asked, "How do you get paid on a contract that isn't signed?"
Dillard University political analyst Dr. Robert Collins says not having a signed contract could put the city and the vendor at risk.
"Yeah, I don't know why you would enter into an agreement with someone -- especially if you're using public money -- and not have a signed contract to protect both yourself and the vendor," Collins said.
RELATED STORIES
New Orleans council planning subpoena of Cantrell mailer printing company
Mayor Cantrell should pay taxpayers back $50k for mailer, Councilwoman Moreno says
Mayor Cantrell may have broken state law mailing out flyers
Aside from being unsigned, a provision tucked into page nine of the contract raises more questions about the work for which Mercury was paid. The draft notes that Mercury would be paid a consulting fee for voter file analysis. Collins says that's essentially looking at voter records and deciding to whom the mailer should be sent, based on voting history, registration, party and other factors.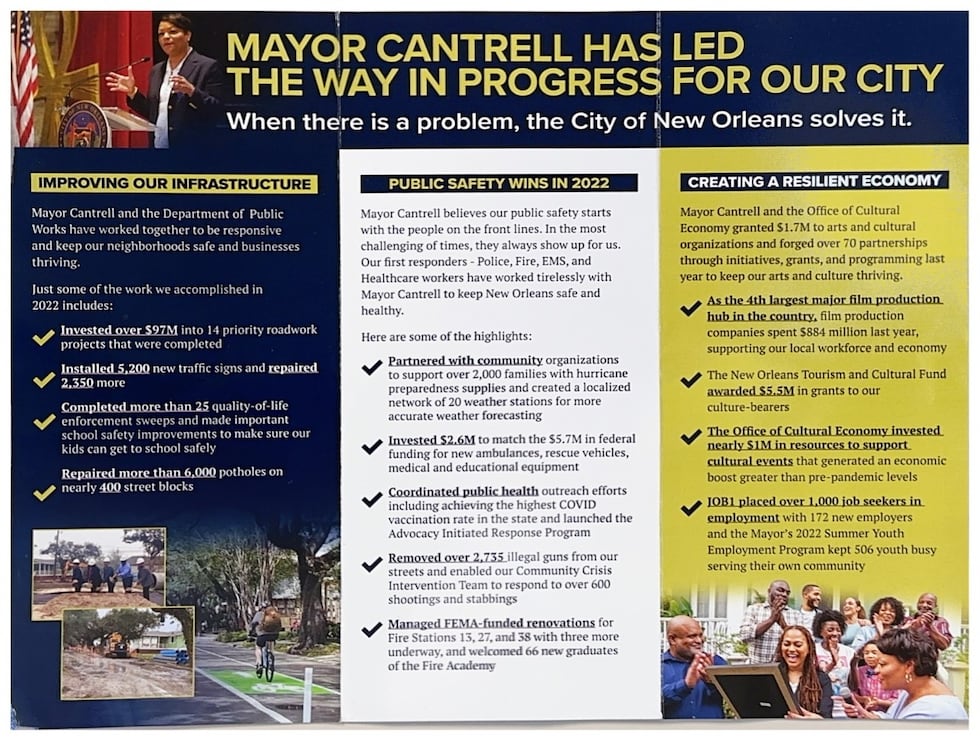 Collins says the money for the mailer should have come out of Cantrell's campaign funds, and that taxpayers should not have footed the bill.
"The only reason you're doing voter file analysis is that you're trying to identify the chronic voters," Collins said. "Basically, that means the voters that vote in every election. Because you know, when you're spending campaign funds, you want to be efficient in how you spend them. You don't want to send a mailer out to every voter because that's a waste of money, basically. So, you want to target the chronic voters that vote in every election.
"In essence, that's a campaign function. That's a function that campaign direct-mail consultants would be conducting. They would be targeting the voters that vote in every election. So, that's the only reason you would be doing a voter file analysis."
Legal analysts have said the mailer is against the law since it used public funds to pay for a flier with Cantrell's name on it. Collins says the language in the draft contract proves Cantrell used public funds improperly.
"Everything about this mailer appears to be for the purposes of a campaign," he said. "Number one was, you know, the timing. The mayor has not done a mailer like this, at any point in time, during her current term or her previous term. She only did it now. The assumption that she did it now is because she was trying to counteract the publicity from the recall effort."
Moreno says the mailer, contact and money spent all will be investigated thoroughly.
"The issue with the mailer is that it looks very political in nature," Moreno said. "Then, when you couple that with the fact that they hired a firm that's going to be doing some type of voter analysis … well, then it really seems like this is all just for a political purpose.
"So, all of that combined just seems, you know, not quite right."
See a spelling or grammar error in our story? Click Here to report it. Please include the headline.
Copyright 2023 WVUE. All rights reserved.