3 arrested, 2 wanted following New Llano shooting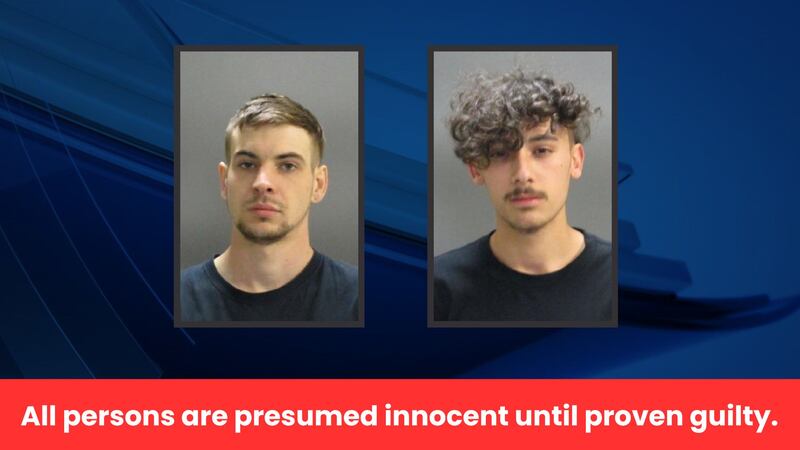 Published: Mar. 22, 2023 at 1:28 PM CDT
VERNON PARISH, La. (KALB) - Two adults and a juvenile have been arrested following a shooting that happened at a convenience store in New Llano earlier this month. Two other suspects are wanted in the investigation.
On March 7, the New Llano Police Department, the Vernon Parish Sheriff's Office and Leesville Police Department responded to a report of gunfire at a store in New Llano around 9:49 p.m.
Detectives were able to watch video surveillance of the incident and learned that about six people in two separate vehicles were involved in the shooting.
Daulton Michael Andrews, 26, of Leesville, and Miguel Zarate Guajardo Jr., 18, of DeRidder were identified as suspects and were arrested on March 17. Andrews was identified as the shooter while Guajardo Jr. was identified as an occupant of the vehicle.
They were located at a residence in Joplin, Missouri, and taken into custody without incident. The suspects are awaiting extradition back to Vernon Parish on charges of attempted first degree murder, criminal conspiracy and distribution of a schedule I narcotic.
It was learned that two other suspects, Joseph Smith and Jalyn Thurman, and a male juvenile, had driven to the convenience store to meet with Andrews and Guajardo Jr. to purchase illegal narcotics. During the exchange, Thurman grabbed the narcotics and both Thurman and Smith fled Andrew's vehicle. At that time, Andrews exited his vehicle and began to fire over a dozen shots at the two fleeing men, striking their vehicle numerous times.
Officers learned that Smith had fled the scene with non-life-threatening gunshot wounds to his head and leg. He was treated at a medical facility and released later that night.
The 17-year-old male juvenile from DeRidder, the driver of the Thurman's vehicle, has been arrested and charged with one count of principal to the distribution of a schedule I narcotic, one count of criminal conspiracy and one count of principal to simple robbery.
Warrants have been issued for Jalyn Thurman and Joseph Smith for simple robbery, distribution of a schedule I narcotic and criminal conspiracy.
The Vernon Parish Sheriff's Office asks that anyone with any information relating to the whereabouts of Thurman and Smith contact VPSO at 337-238-1311.
Click here to report a typo. Please provide the title of the article in your email.
Copyright 2023 KALB. All rights reserved.