Chlorine leak from BioLab causes shelter-in-place
Published: Mar. 22, 2023 at 10:09 AM CDT
|
Updated: Mar. 22, 2023 at 6:09 PM CDT
Westlake, LA (KPLC) - A shelter-in-place has been lifted following a chlorine leak from BioLab.
I-10 has reopened. It was previously shut down and traffic diverted to 210 at both I-10 interchanges.
A visible vapor cloud could be seen in the area this morning, and air monitors confirmed chlorine in the air, state police said.
KPLC first received reports of a possible chemical leak around 9:45 a.m.
Officials were concerned about the potentially harmful effects chlorine can have on the human body.
"Well chlorine in sufficient concentration can be very hazardous it's an extreme irritant," LA State Police Sgt. James Anderson said. "It's an inhalation hazard so we wanted to air on the side of caution to ensure everyone in the vicinity was safe."
Phillips 66, which is just across the interstate from BioLab, said it ordered the evacuation of contractors and non-essential personnel. They said they received several reports of eye and nose irritation along with a chorine smell.
After a series of tests, the Louisiana Department of Environmental Quality determined the area to be safe. The shelter-in-place order was lifted a little more than an hour after it was issued.
"We did air monitoring, we did not find any levels in the community that were harmful to human health, we did have some trace detections but very low amounts," DEQ press secretary Greg Langley said.
In these big plants, it takes just one thing to go wrong but luckily crews were able to find the source of the leak.
"Apparently it was a transport line that was coming into the plant where they make chlorine to sanitize swimming pools and it's produced in tablets," Langley said.
According to State Police, the cause of the leak is under investigation and no injuries have been reported.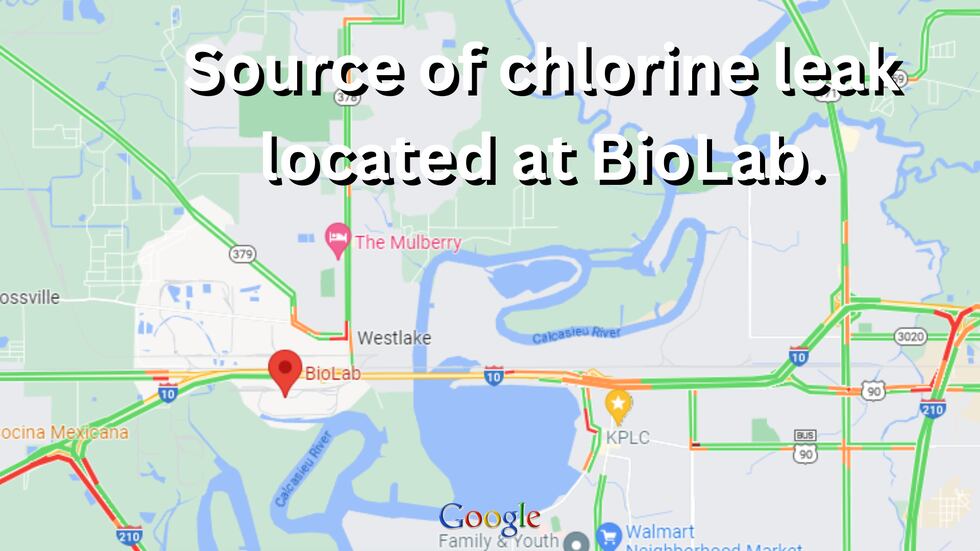 Copyright 2023 KPLC. All rights reserved.