Gumbs' big throw headlines first day for Northwestern State at Bobcat Invitational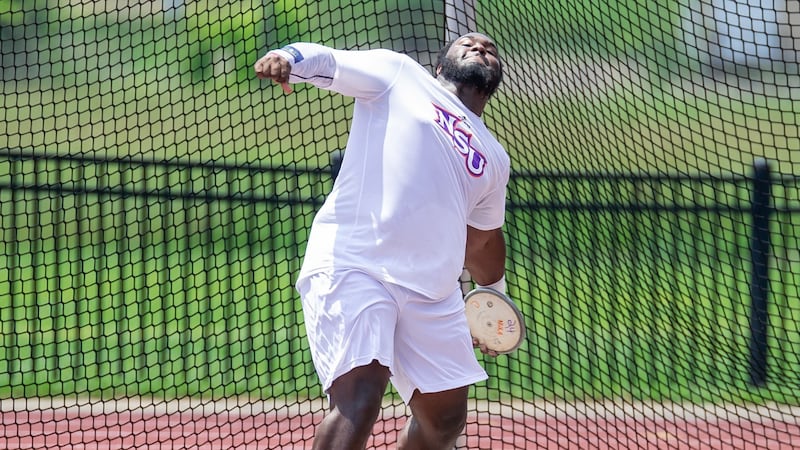 Published: Mar. 30, 2023 at 8:02 PM CDT
SAN MARCOS, Texas (NSU) - Diamante Gumbs' personal best in the discus highlighted the opening day of competition at the Bobcat Invitational, as the teams participated in both the Bobcat Invitational and Texas Relays.
Diamante Gumbs had an exceptional day at the discus at the Bobcat Invitational, tossing a personal best 183-0, which is the second-best mark in the Southland Conference this outdoor season, only behind his twin brother Djimon Gumbs' national-best mark of 205-11.
Nationally, the throw ranks 27th.
"The conditions were not great, but on his first throw, he hit a big one," sprints coach Adam Pennington said. "He just missed a few more big throws, but definitely will keep his bother on his toes. He's throwing well."
In the heptathlon, Carolin Bielert recorded a pair of personal bests in the heptathlon. She began the competition with a personal best in the 100-meter hurdles (15.71) and ended it with one, running a 26.20 in the 200-meters, finishing sixth.
Bielert, a freshman from Lubeck, Germany, is eighth after one day in the heptathlon, which will conclude Friday.
"Carolin was battling some injuries but finished the day well," Pennington said. "(Jumps coach) Coach (Rich) Fisher is doing a great job with her."
Madison Brown cleared 11-9.75 in the pole vault, finishing tied for eighth.
At the Texas Relays, Sian Weller posted a strong performance in the women's 400-meter hurdles, winning her heat and placing 15th out of 76 finishers with a time of 1:01.54.
"Sian had a great day," Pennington said. "Opening as fast as she did was a huge surprise for us. If she ran that time last week we would have been just as excited. This is only her second hurdle race of her life. Big things are coming for her. She's an extremely talented kid and hard worker."
The teams continue at the two meets Friday in San Marcos and Austin.
Copyright 2023 NSU. All rights reserved.