Harahan woman accused of murdering 6-year-old girl, leaving her in bucket on mother's lawn
Published: Apr. 26, 2023 at 12:02 PM CDT
|
Updated: Apr. 27, 2023 at 10:34 AM CDT
HARAHAN, La. (WVUE) - A Harahan woman is in custody Wednesday (April 26), accused of the gruesome murder of a 6-year-old girl whose body was crammed into a plastic bucket and left on her biological mother's front lawn.
The horrifying discovery was made around 8:20 a.m. and triggered a frantic search for 43-year-old Hannah Landon by the Jefferson Parish Sheriff's Office and Harahan Police. Landon -- who also uses the names Bunnak Lim and Bunnak Landon -- was described as the girlfriend of the young girl's father.
Jefferson Parish Sheriff Joe Lopinto said Landon was located around 2 p.m. at a local hospital and was arrested. Lopinto would not say why the woman was at a hospital. Jail records indicate she was discharged from the hospital sometime Thursday morning and booked with first-degree murder and obstruction of justice. She is currently being held without bond.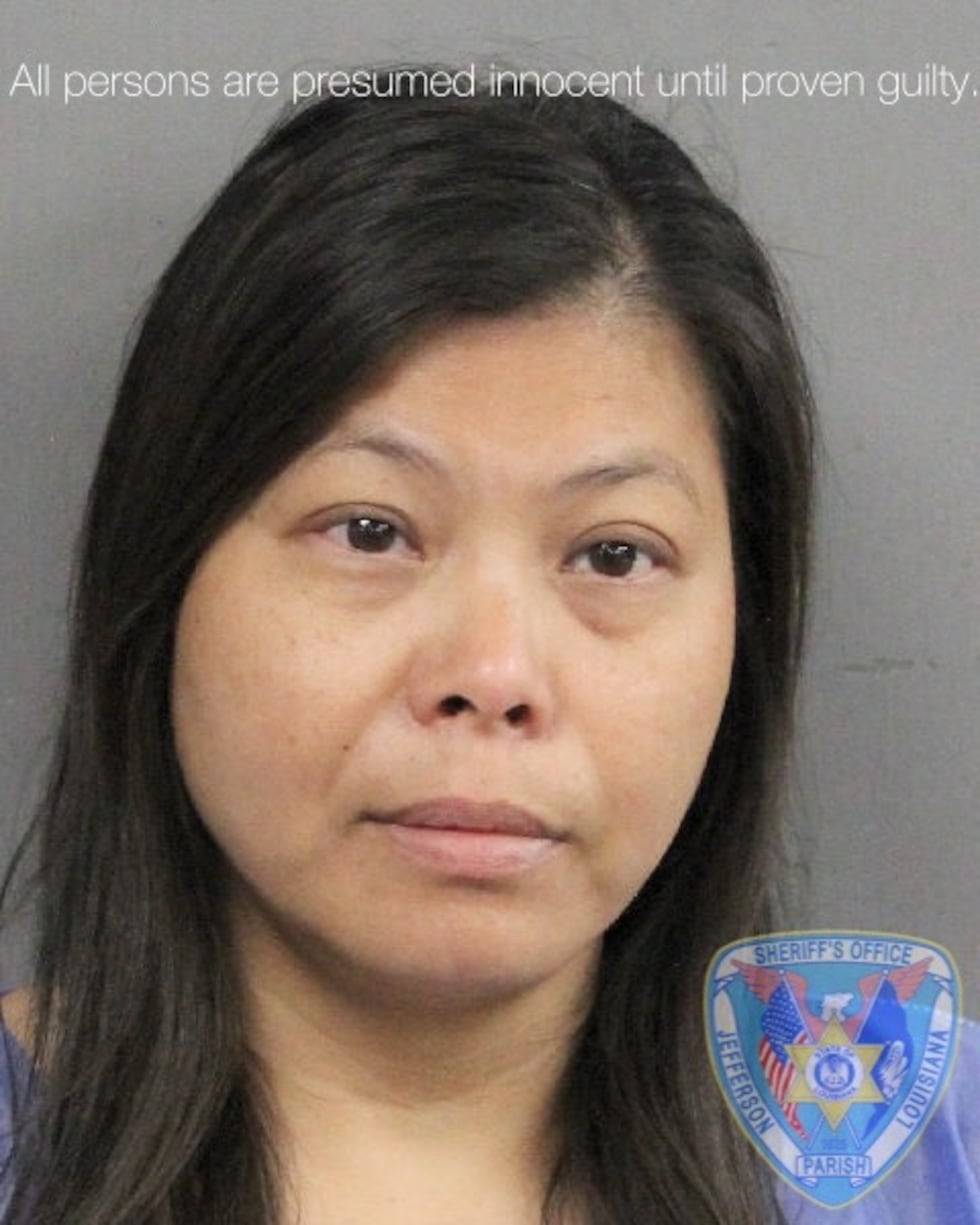 The victim was identified as Bella Fontenelle, a kindergarten student at St. Matthew the Apostle Catholic School in River Ridge.

Jefferson Parish Coroner Dr. Gerry Cvitanovich said an autopsy determined the girl's death was by homicide, and that the body exhibited "multiple injuries" that would be detailed at a later date.
Lopinto said the girl's father reported his girlfriend and youngest daughter missing around 7:30 a.m., after waking up to find them unexpectedly absent from their house on Donelon Drive.
The sheriff said investigators believe Landon killed the girl at that home late Tuesday night, placed the corpse inside a lidded 10-gallon chlorine bucket, then pulled the bucket in a wagon to place it outside the home of the girl's biological mother just over a block away on Sedgefield Drive.
A neighbor provided police and Fox 8 with surveillance camera video that showed a woman calmly pulling a wagon carrying a white bucket down a sidewalk at a casual pace, with no attempt to hide even as an approaching car passed.
Lopinto said detectives had not yet attempted to interview Landon, nor developed a motive for the killing. An older sister who also was at the house Tuesday night was not harmed.
The bucket left at the mother's house was discovered as Harahan Police were canvassing the neighborhood for signs of the missing child and Landon. Lopinto said the victim's mother was home at the time, but he didn't know if she found the body before officers.
"I don't know who opened it," Lopinto said.
As for why the alleged killer would bring the bucket to the home of her boyfriend's ex-wife, Lopinto said, "I don't know the answers to that yet."
Harahan Police Chief Ed Lepre said he was in Orlando for an FBI conference Wednesday morning but hurried back after learning of the shocking homicide.
"We're a small town, we're a safe town," Lepre said. "This is a senseless-type incident that happened. We are keeping the family in our prayers."
Lopinto said the dead girl's parents were devastated.
"Dad went through extensive interviews today, and we don't believe he was involved in the murder by any means," Lopinto said. "As you can imagine, both him and the mother are extremely upset, as you would expect of anyone who lost a 6-year-old child unexpectedly."

The victim's father and Landon had spent "several years together," Lopinto said. The sheriff said investigators were combing through records linked to each of Landon's aliases and that it was premature for the JPSO to release any information on whether she had been associated with any previous accusations of child abuse or violence.
Meanwhile, St. Matthew the Apostle administrators announced the school would close Thursday and Friday in response to the tragedy.
A school email sent to St. Matthew parents said in part, "It is with heavy hearts and great sorrow that we write to you. We have been informed by the Jefferson Parish Sheriff's Office that a kindergarten student here at St. Matthew the Apostle was found dead today. ... This is indeed a horrific tragedy that will impact our school and parish community.
"... We have notified our faculty of today's events but have not shared anything with the students. We delayed this notification in an effort to shield our kids from this tragic news. We feel it is best for them to be with you when the news reaches them."
The school will hold a prayer service Friday for young Bella, her family, and the school community.
See a spelling or grammar error in our story? Click Here to report it. Please include the headline.
Copyright 2023 WVUE. All rights reserved.