LCU's return to Sterlington means return to comfort for Lamartiniere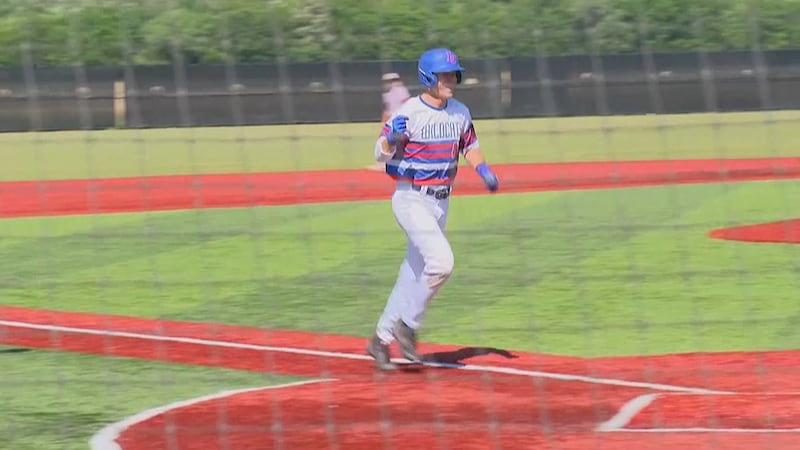 Published: May. 5, 2023 at 1:24 PM CDT
PINEVILLE, La. (KALB) - Every athlete has something in their life that gives them comfort.
It could be a song they listen to pregame, a message they write on their tape or just a moment of silence by their locker. For Louisiana Christian's outfielder Peyton Lamartiniere, his comfort zone happens to be a ballpark up in Sterlington, La.
In February 2022, Lamartiniere lost his mom as his junior season was just beginning with the Wildcats. Through a difficult and emotional time, Lamartiniere and his family knew if there was one thing his mom would want him to do, it was to continue to play the game he loves.
"Something was telling me to go play," said Lamartiniere.
Early in the 2022 season, Louisiana Christian was slated to play four games as part of the Cajun Collision Tournament up in Sterlington. In a Feb. 12 matchup against Tabor College, only Lamartiniere's sixth game of the season, the junior went 4-5 from the plate, including his first home run of the season. Lamartiniere would finish the game with four RBIs and three runs scored in a 14-3 win.
Fast forward three months and the Wildcats were back in Sterlington for the Red River Athletic Conference Tournament. The best way to describe what would happen next is nothing short of a miracle, or you could say there was an angel in the outfield.
In LCU's first-round game against the University of the Southwest, Lamartiniere hit three home runs in three consecutive at-bats. He started the day with a two-run homer in the third, a solo shot in the fourth, and then another two-run blast in the fifth to cap off a 17-13 win to advance in the winner's bracket. Just a day later in the second round, Lamartiniere would leave the yard once again on a grand slam in the bottom of the first.
Dating back to that game in February against Tabor, Lamartiniere hit five home runs in 12 at-bats up in Sterlington. Lamartiniere hit just six home runs on the season, all but one came in his place of comfort.
"It showed us a lot of things when I hit that homerun and it just showed you that it's real up there," said Lamartiniere. "Sterlington has been a place for me."
In six games last year in Sterlington, Lamartiniere totaled 12 hits (five home runs) and 13 RBIs.
This season, Lamartiniere's bat is a big reason the Wildcats are the number two seed this year for the Red River Athletic Conference Tournament. He's fourth on the team with a .365 batting average to go along with a team-high 19 doubles, nine home runs and 50 RBIs. The senior has also earned first-team all-conference honors with his play at the plate.
On Friday, May 5, Lamartiniere will return back to the same Sterlington ballpark hoping for more of that magic.
Click here to report a typo. Please provide the title of the article in your email.
Copyright 2023 KALB. All rights reserved.