LSU roars past South Carolina in 2nd round of SEC Tournament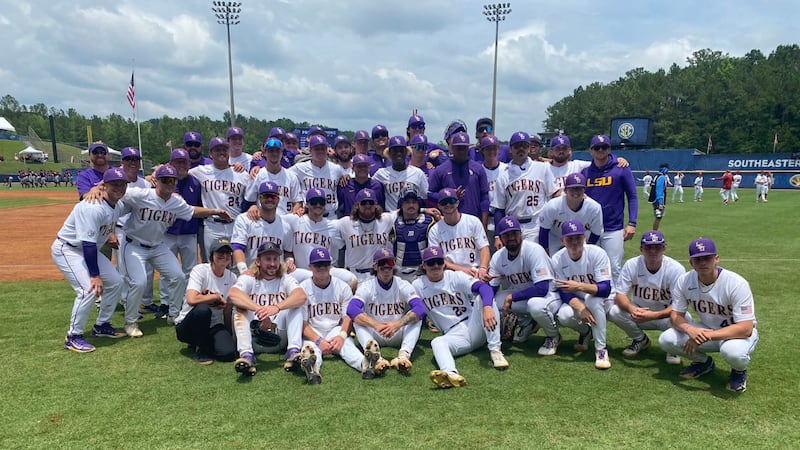 Published: May. 24, 2023 at 12:50 PM CDT
|
Updated: May. 24, 2023 at 2:42 PM CDT
HOOVER, Ala. (WAFB) - The No. 3 seed LSU baseball team remained in the winner's bracket of the SEC Tournament with a victory over No. 6 seed South Carolina in the second round on Wednesday, May 24.
The Tigers (43-13) roared to a 10-3 win over the Gamecocks (39-18). LSU's pitchers struck out 10 while giving up five hits and walking six. The Tigers had 12 hits and seven walks at the plate. South Carolina moved to the loser's bracket.
Thatcher Hurd (4-2) started on the mound and earned the win. He allowed three runs on four hits with four strikeouts and two walks in 5.1 innings of work. He exited the game in the sixth inning with the bases loaded and one out.
Sam Dutton then entered the game and walked the one batter he faced before being replaced by Nate Ackenhausen, who got the Tigers out of the inning with no further damage. He picked up his second save of the season by just giving up one hit and no runs while striking out six and walking three.
Brayden Jobert hit a two-run homer in the bottom of the second inning to put LSU up 2-0. He finished 2-for-3 with two RBI and scored twice. Dylan Crews, Josh Pearson, and Tommy White were all 2-for-4 from the plate. Crews and Pearson each had one RBI while White had two.
In the top of the fifth, Ethan Petry hit a solo home run for South Carolina to make it 2-1.
The Tigers then scored four runs in the bottom of the fifth, two on bases-loaded walks and two on sac-flies, to go up 6-1.
The Gamecocks shrunk that lead to 6-3 in the top of the sixth inning by scoring two runs on bases-loaded walks but the Tigers scored a pair of runs in the bottom of the inning to make it 8-3.
LSU then scored two more runs in the seventh to go up 10-3.
Head coach Jay Johnson got his 400th career win.
The Tigers will next face Arkansas on Thursday at 4:30 p.m. Paul Skenes, the SEC Pitcher of the Year, will take the mound for LSU.
Click here to report a typo.
Copyright 2022 WAFB. All rights reserved.