Alvin Kamara agrees to plea deal on lesser charge in Vegas nightclub attack
Published: Jul. 11, 2023 at 1:10 PM CDT
|
Updated: Jul. 11, 2023 at 4:14 PM CDT
NEW ORLEANS (WVUE) - New Orleans Saints running back Alvin Kamara on Tuesday (July 11) agreed to a plea deal to a lesser charge in a 2022 Las Vegas nightclub beating, according to court documents.
Kamara agreed to plead no contest to a misdemeanor charge of breach of peace. He was originally booked and pleaded not guilty to felony battery resulting in bodily harm and a misdemeanor charge of conspiracy to commit battery.
The NFL has been waiting for the legal proceedings to play out before issuing any disciplines. The league released a statement Tuesday that said: "We have been closely monitoring all developments in the matter which remains under review."
Kamara will do 30 hours of community service and pay the alleged victim in the fight $105,000 for medical bills.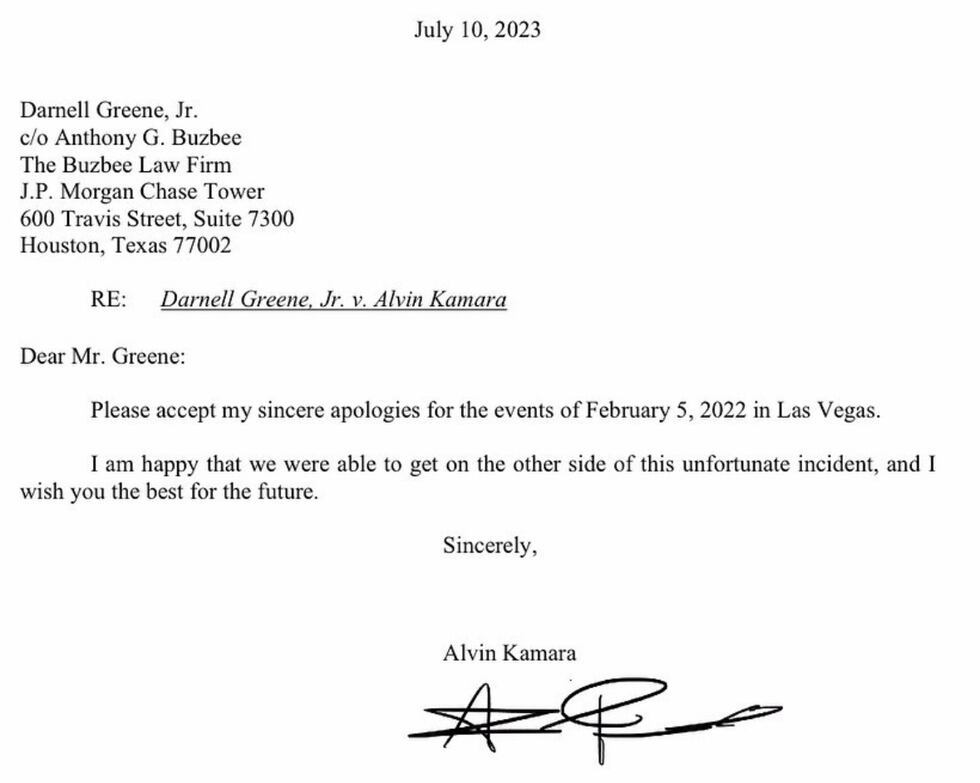 Kamara and co-defendants Chris Lammons, Darring Young, and Percy Harris were arrested after allegedly punching, kicking, and stomping on Darnell Greene Jr. during an altercation outside of an elevator the day before the NFL's 2022 Pro Bowl.
While Greene initially requested damages of $10 million from Kamara, a notice of removal in Louisiana court last November said that Kamara had never actually been formally served with the lawsuit. The two men reached a private settlement on July 10 according to Greene's lawyer, Tony Buzbee.
Buzbee said on his Instagram account that the settlement also included a public apology from Kamara.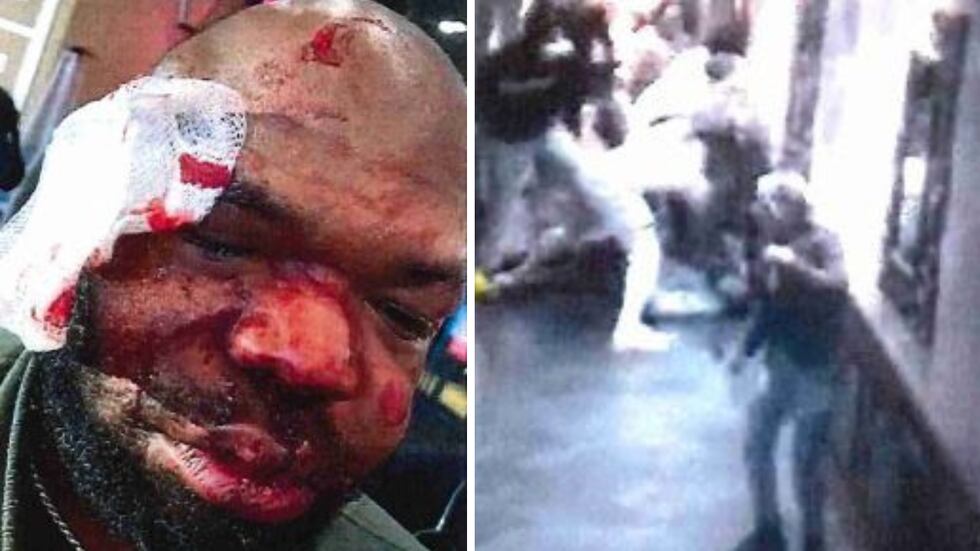 Attorneys for the Saints star claimed the altercation was self-defense on Kamara's part and criticized prosecutors for taking the case to a grand jury, where testimony was taken and evidence present behind closed doors.
Lammons' attorney, Ross Goodman, acknowledged that Lammons struck Greene, but called it "a measured response" to being pushed or shoved in the nightclub hallway.
Greene was treated for a fracture of the bones around an eye, and reported neck, back, shoulder, and knee injuries, according to police and court filings in New Orleans.
Police said the incident began when Kamara put his hand on Greene's chest to stop him from entering an elevator, Greene pushed the football player's hand away, and a person with Kamara punched Greene.
"At no point during this attack did Greene hit, punch or push Kamara or any of his associates," Las Vegas police said in an arrest report.
RELATED STORIES
Dash camera video shows Alvin Kamara moments after Las Vegas nightclub fight
Grand jury indicts New Orleans Saints' Kamara in Las Vegas nightclub assault
No arguments heard in latest Kamara court date; preliminary hearing set for March 1
Alvin Kamara's court proceedings pushed back another 60 days
Photos show nightclub beating involving Saints' Kamara; $10M lawsuit filed
In the police report, a detective said: "When asked why Kamara punched Greene, Kamara indicated he thought Greene was running away and had done something to his group so he chased and punched Greene several times."
"Mr. Greene was only trying to get on an elevator and was beaten almost to death," Buzbee, said.
The NFL lists assault/battery as a form of prohibited conduct in its official personal conduct policy and says any player found to have engaged in that conduct could be subject to discipline even if there is no criminal conviction.
"It is not enough simply to avoid being found guilty of a crime," the league policy states. "We are all held to a higher standard and must conduct ourselves in a way that is responsible, promotes the values of the NFL, and is lawful. Players convicted of a crime or subject to a disposition of a criminal proceeding ... are subject to discipline."
Kamara was named Rookie of the Year in 2017 and was selected for the Pro Bowl in his first five seasons. He finished the 2022 season with almost 1,400 rushing and passing yards from scrimmage and four touchdowns.
See a spelling or grammar error in our story? Click Here to report it. Please include the headline.
Subscribe to the Fox 8 YouTube channel.
Copyright 2023 WVUE. All rights reserved.