NSU's annual Don't Die Wondering Golf Tournament set for Sept. 9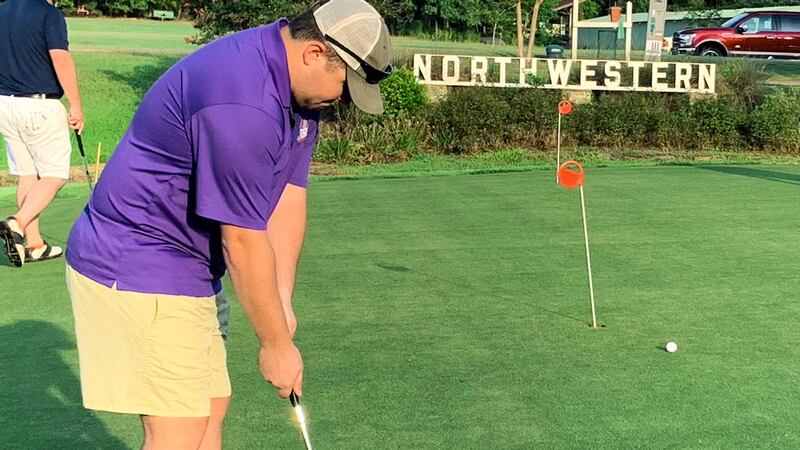 Published: Aug. 3, 2023 at 6:26 PM CDT
NATCHITOCHES, La. (NSU) - Northwestern State women's basketball is now accepting registrations and sponsorships for the 35th Don't Die Wondering Golf Classic.
The annual event, set for Sept. 9 at Northwestern Hills Golf Course, on the state Highway 1 bypass, remains the primary fundraising effort for the women's basketball program, alongside the Fastbreak Club, under fourth-year head coach Anna Nimz.
Due to ongoing road construction on the Highway 1 bypass, visitors may need to take an alternate route to the course. Entry fees are $450 per team or $125 per individual playing solo. The four-person, 18-hole, scramble format tournament will begin at 8 a.m., with a possible second flight later in the day added if necessary.
During their round, golfers will have the opportunity to shoot for a new car with a hole-in-one challenge as well as have their golf skills challenged throughout the course with various games, skill challenges and other surprises along the way. Food and drinks will also be available at the clubhouse and throughout the course.
Visit www.nsudemons.com/DDW for additional details on the tournament and information on how to sign up yourself or your team. Hole sponsorships and corporate sponsorships for the event are also available. All proceeds benefit the Lady Demon basketball program, including feeding players over holiday breaks, overall team travel expenses and additional program costs, all of which have a direct impact on the players.
For more information, contact the women's basketball office at 318-357-5897 or assistant coach Mike Brown at brownmi@nsula.edu.
Copyright 2023 KALB. All rights reserved.