First full-pad practice offers learning experience for Demons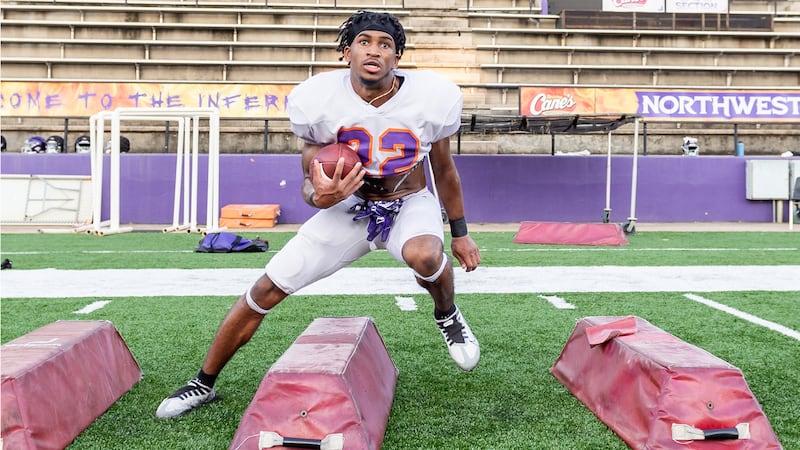 Published: Aug. 8, 2023 at 10:45 PM CDT
NATCHITOCHES, La. (NSU) - Each of the 15 preseason practices ahead of the first game week of the 2023 season offers a chance for reflection for the Northwestern State football team.
Tuesday's practice No. 6 – the first full-pads workout of camp – was no different.
"At the start of camp, one thing we talk about is when it gets to Day 5, Day 6, Day 7, are you going to have the same energy you had Day 1?" sixth-year head coach Brad Laird said. "We found out the answer, and unfortunately it was not the answer we wanted."
The Demons went through their second straight late evening, early night practice of camp after making the decision to move practices back in their second week together.
The focus of Tuesday's nearly two-hour workout was on situational performance, much like a typical early practice of game week.
"It was good to get some of that on film to learn from, but also to learn how you're supposed to practice and how you don't practice," Laird said. "That's the part that's disappointing, but at the end of the day, it's Day 6. It's not Sept. 2. You don't get Sept. 2 back just like you don't get Day 6 back, but you have opportunities moving forward to get things corrected. I think this team will do that."
NSU has two more practices ahead of the first preseason scrimmage of camp, which happens Saturday morning. The Demons will work out at the same time the next two days ahead of Saturday's first scrimmage, which provides them a chance to go through game-like situations with referees for the first time in camp.
"As we go through the week, we'll gear up for that first what we call a preseason game," Laird said. "We'll get to all three phases and see who has stepped up and what are some things we need to do moving forward to put this team in the best situation to be successful."
Copyright 2023 KALB. All rights reserved.