2024 NSU baseball coaching staff announced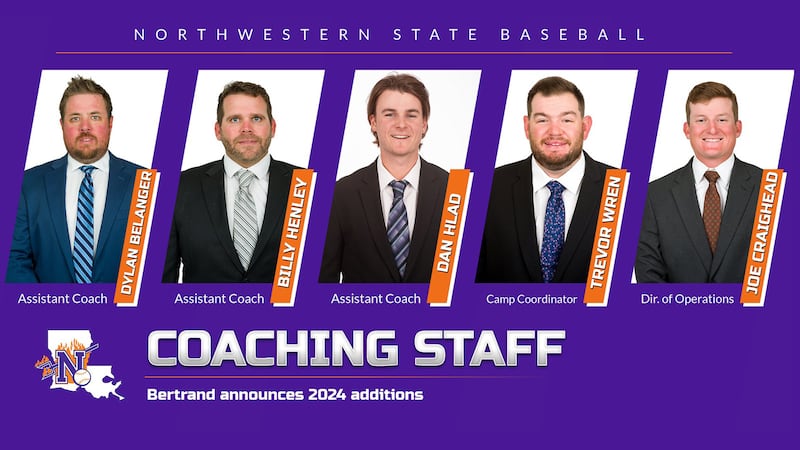 Published: Aug. 10, 2023 at 6:16 PM CDT
NATCHITOCHES, La. (NSU) - First-year Northwestern State baseball coach Chris Bertrand's coaching staff has added a pair of assistants to his staff.
Bertrand announced Thursday the addition of Dylan Belanger and Billy Henley to the Demon family, wrapping up the 2024 Demon staff. Those hires have been approved by the Board of Supervisors of the University of Louisiana System, which governs Northwestern State.
"We could not be any more excited about the way that this staff has come together this summer," Bertrand said. "We firmly believe that welcoming Dylan and Billy, retaining Dan (Hlad), and holding onto our support staff coaches, has set up our program for success now and into the future. As we mentioned early on, we will continue to build upon the foundation of the program in the name of family values and baseball development, and we feel strongly that these individuals will do just that with their baseball acumen and their personal character.
"They all bring a fervent approach to the game, a tremendous set of skills and knowledge, and they will help us reach into new areas of recruiting that is crucial in the changing environment of our industry"
Belanger comes to Northwestern State after spending the past four seasons as an assistant coach and recruiting coordinator at former Southland Conference rival Stephen F. Austin. He will hold the same positions and titles at NSU.
A New Orleans native, Belanger's 2021 Stephen F. Austin pitching staff ranked in the top 100 nationally in ERA while the Lumberjacks sent a pair of players to play independent baseball. While Belanger's final two seasons at SFA were spent in the Western Athletic Conference, he has deep ties to the Southland.
From 2017-2019, Belanger was an assistant coach at New Orleans where he coached outfielders and was the Privateers' first base coach. During Belanger's tenure, New Orleans reached the 2018 Southland Conference Tournament championship game, falling to Northwestern State.
Belanger spent three seasons coaching in the Mississippi Association of Community Colleges Conference at Hinds Community College (2016-17) and at Mississippi Delta Community College (2015). Belanger helped Hinds reach the MACCC playoffs and send 12 players to Division I programs. Four of Belanger's pitchers earned all-conference honors with one being an All-Region 23 selection.
Belanger also helped Mississippi Delta reach the state playoffs in his first college coaching position. Before joining the staff at Mississippi Delta, Belanger spent six seasons as the pitching coach at Neville High School in Monroe where he coached more than 20 players who played collegiate baseball while helping Neville reach the 2014 Louisiana Class 4A state championship game.
A De La Salle High School product, Belanger also helped coach Monroe Baseball to the 2014 Dixie Majors World Series, finishing third.
"Being able to attract Dylan to Demonland is something that we are thrilled with accomplishing," Bertrand said. "We firmly believe that he will do an incredible job of constructing our rosters, developing relationships, and teaching the game. Dylan is passionate about people and passionate about recruiting. He is a tireless worker, and he is relentless in pursuit of players. We have admired his work from the outside for quite a while, and bringing him into our family to work with us is something that gives me great excitement for our program."
Henley comes to Northwestern State following a one-season stint as the hitting and catching coach at Florida Southwestern State College. Henley's Florida Southwestern offense averaged better than seven runs per game and produced the first All-American position player in school history, AJ Shaver, who also became a 17th-round Major League Baseball First-Year Player Draft pick of the Philadelphia Phillies.
Shaver was one of two Buccaneers who earned first-team All-State honors in the Florida College System Activities Association.
Henley spent the 2022 season at Francis Marion University in Florence, South Carolina, serving as the recruiting coordinator and hitting coach where he helped the Patriots average more than nine runs per game and produce a .353 team batting average that ranked fourth in Division II. Four of Henley's hitters earned all-region honors with one picking up honorable mention All-American honors.
That year followed a two-season span at Andrew College where Henley's offensive batted .339 and averaged better than eight runs per game in 2021, helping Andrew win the Georgia Collegiate Athletic Association crown for the first time in school history and setting the school record with 35.
Henley also has three years of experience as the hitting coach for the Green Bay Booyah of the Northwoods League, working with some of the top players in the nation.
A Miami Westminster Christian graduate, Henley began his coaching career at South Forsyth High school in Georgia, spending four seasons there (2011-14) before coaching two seasons at Oglethorpe University. After a two-year stint at King's Ridge Christian School where his offense averaged more than seven runs per game, Henley spent the 2019 season as a volunteer assistant coach at Georgia State.
"Demon baseball is extremely pleased to welcome Billy and Maggie into our family," Bertrand said. "We knew of Billy's work in the game, we knew of his network, and we were impressed by his resume, but throughout the process, we really enjoyed getting to know him as a person. Billy is a baseball guy through and through. He has cut his teeth in the game the old-fashioned way, he has worked his way up the ladder the right way, and he has an awesome work ethic. We are excited for our players and fans to see Billy work."
As Bertrand announced at his introductory news conference in June, Hlad will remain on staff as the Demons' pitching coach.
A two-year NSU letterman who started the 2018 Southland Conference Tournament championship game, Hlad has spent the past three seasons on the Demon staff as the volunteer assistant coach.
Primarily assisting with the Demon pitchers, Hlad accumulated additional responsibilities in each successive season. He played a key role in the development of MLB Draft selections Levi David (2021), Johnathan Harmon (2022) and Alex Makarewich (2023).
In 2023, Northwestern State's pitching staff led the Southland Conference in fewest hits per nine innings allowed (8.29, No. 22 nationally), strikeout-to-walk ratio (2.27, No. 52 nationally) and in strikeouts per nine innings (8.7). The Demons also ranked 21st nationally in WHIP at 1.35 and 48th nationally in fewest walks per nine innings (3.83).
"As we have mentioned all along, we felt it to be both important and necessary to secure Dan as our pitching coach," Bertrand said. "The combination of continuity within the pitching staff and pitching system with the belief that we have in Dan's skills and talents are a critical building block for our program. I think Dan has one of the best young pitching minds in the game. He has the ability to blend the new wave of pitching development with his experience in the necessary Demon Way. His experience as a player, as a pro player, and as an assistant on some incredible Demon pitching staffs in the past few years, has him poised to be successful running his own unit. Working with Dan when it comes to pitching is truly a pleasure."
Two additional staff members return for the 2023 season – both with new roles and titles.
In his fourth season at NSU, Trevor Wren will serve as camp coordinator and director of player personnel, while graduate manager Joe Craighead returns for his second season as a Demon in that capacity and will add director of operations to his role.
Copyright 2023 NSU. All rights reserved.