Arrest made after 'massive' Washington Parish fire contained late Friday night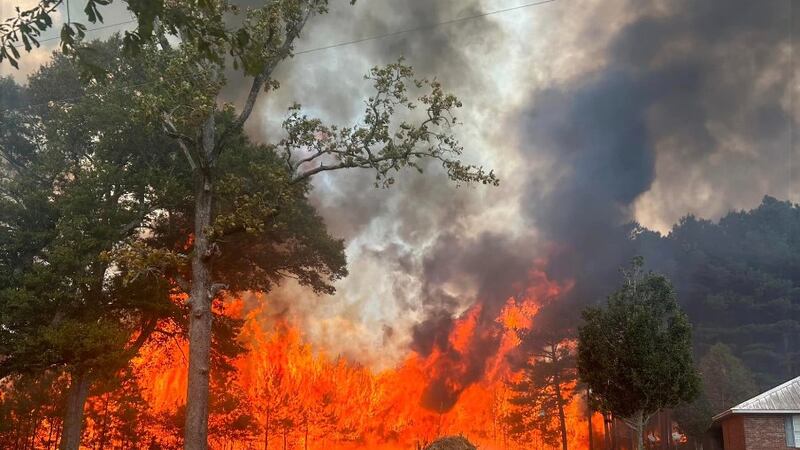 Published: Aug. 11, 2023 at 8:03 PM CDT
|
Updated: Aug. 12, 2023 at 9:28 PM CDT
MOUNT HERMON, La. (WVUE) - A 34-year-old Independence man was arrested early Saturday (Aug. 12) after authorities said they determined he was responsible for starting a large Washington Parish fire on Friday evening.
Records show Kenneth Beaubouef was booked into the Washington Parish jail at 1:27 a.m. on allegations of fire raising, criminal negligence and violating the statewide burn ban.
"These things can be criminal and also civil," said Mike Strain, Commissioner of the Louisiana Department of Agriculture and Forestry. "This was a young plantation pine and is probably going to be a 100% loss of the value of that timber. That timber was probably 12 to 15 years old, so that's a significant amount of money that the person responsible for that will have to pay back. Restitution is a big part."
Washington Parish officials warned residents Friday evening of a "massive fire" being fought along a stretch of Highway 1056 near Mount Hermon.
"A massive fire has broken out along Highway 1056 causing major problems in the area," the Washington Parish Sheriff's Office said in a social media post. "For your own safety, please avoid the area and do not drive through it.
"Multiple fire departments are currently on scene trying to put out the flames. Stay safe and stay away from the affected area until further notice."
Fox 8′s John Snell reported the fire appeared to be contained shortly before 8 p.m. Six fire companies had responded to the blaze.
Strain told Fox 8 on Saturday that the fire consumed approximately 193.75 acres.
Strain said no civilian or firefighter injuries were reported, but that a private plane attempting to get an aerial view of the destruction had a "near-miss" with aircraft working to suppress the fire.
Strain says until the area sees significant rainfall, the conditions will remain dangerous.
"We are praying that we see some rain soon. Normally, this time of year, you get some tropical storms," said Strain. "Tropical storms bring in some soaking rains and it goes all the way up to the Midwest. That has not happened."
Photos and video provided to Fox 8 by Washington Parish resident Julie Stogner showed a line of flames perilously close to at least one house in the area. But Washington Parish officials provided no information on the fire's spread or whether any evacuations had been ordered.
See a spelling or grammar error in our story? Click Here to report it. Please include the headline.
Subscribe to the Fox 8 YouTube channel.
Copyright 2023 WVUE. All rights reserved.