Demons strike balance in first scrimmage of fall camp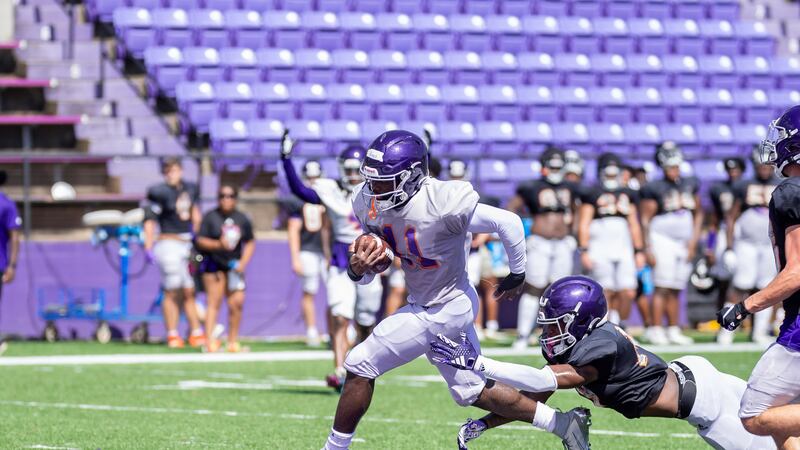 Published: Aug. 12, 2023 at 5:23 PM CDT
NATCHITOCHES, La. (KALB) - Even though Saturday marked the first scrimmage of fall camp, sixth-year head coach Brad Laird had seen what transpired happen before – albeit in reverse.
The Northwestern State offense started Saturday morning's roughly 70-play scrimmage with a chunk-play touchdown on the third play from scrimmage, but the Purple Swarm defense rallied and showed its resilience and playmaking ability throughout.
"This happened practice five or six," Laird said. "Defensively, we came out strong. Had all the momentum early. The offense was able to overcome that and put some positive things together the rest of practice. Fast forward to today, the same thing. Offensively, a couple of touchdowns in the first few series. Then the defense was able to regain its composure.
"That's what you want to see. We talk about adversity. Adversity is going to hit. It may be someone getting hurt. It could be a touchdown. It could be a turnover. How do you respond?"
After JT Fayard hit Stanley King with a 68-yard scoring pass on the first drive and Kolbe Burrell scored on a 6-yard run on the third series, the Purple Swarm found its footing.
The NSU defense finished with nine sacks and capped the first full week of fall camp by forcing a fumble on the final play of the second two-minute drill.
Facing a long field, Fayard hit King, who lateraled to a trailing teammate. Linebacker Justice Galloway-Velazquez arrived at nearly the same time, jarring the ball in the air where defensive end Kwame Sarkodie leaped and snared the loose ball on the scrimmage's final play.
"I give a lot of credit to our defensive coaches for putting us in the right position to make plays," said Sarkodie, who reached into his past as a basketball player to leap and grab the fumble. "At the end of the day, it's up to us players to make the plays and help us be successful as a team."
Galloway-Velazquez is one of a large number of Demons going through their first fall camp in Natchitoches. However, the senior transfer from Campbell came with a previous relationship with defensive coordinator Weston Glaser.
Galloway-Velazquez finished with a scrimmage-high six tackles and added a pair of sacks and the final-play forced fumble in his first action since being reunited with Glaser, his defensive coordinator at Campbell.
"We came out strong and had the busted coverage on the third play, but that's an easy fix for us," Galloway-Velazquez said. "We had a low moment going into the middle part of the scrimmage, but we found a way to pick it back up and finish strong."
The defense produced highlights in the two red zone possessions, forcing a pair of field goals – one that came after the offense had a first-and-goal at the 1-yard line.
Brett Money nailed a 47-yard field goal in the first red zone session after a pair of sacks from the Purple Swarm while Evan Kern connected on a 19-yarder following the goal-line stand.
"I want to talk about Brett Money and Evan Kern," Laird said. "Three-for-three on field goals. Brett hitting a 47-yard field goal. We also had new holders – Hogan Wasson and (Ke'Nard) King – who did a great job, along with Sawyer Benson and Andrew Barnhill snapping. Usually, you don't bring those up unless something negative happen, but it was good to see. It hasn't always been good through the first eight days, but it was good to see them put it all together in the scrimmage."
Stanley King was one of three Demons to catch three passes, leading the scrimmage with 90 yards. Through his first two seasons in Natchitoches, King has shown flashes of his talent as he looks to cement a larger role within the offense.
"I'm pretty comfortable and confident," he said. "I'm ready to attack the season. There was an adjustment (Fayard) and I correlated on, and we connected."
While King hauled in the first score of the day, it was a pair of first-year Demons who delivered the final touchdown Saturday.
Senior transfer quarterback Tyler Vander Waal capped an efficient two-minute drill with a 21-yard scoring pass to Twon Hines, who did much of the work with a nifty run after the catch.
Hines' score was the capper on a nine-play, 68-yard drive that took less than the 1:22 the Demons were given to work with in the scenario.
It was Hines' lone catch and one of 10 completions for Vander Waal, who threw for 151 yards. Fayard, a freshman who came to Natchitoches in the spring semester, threw for 137 yards and his touchdown to King as the quarterbacks combined to compete 17 passes in 29 attempts.
Much like Vander Waal in the spring, Hines, a transfer from Central State, has made an impact in a short amount of time after arriving in Demonland.
"Twon is a guy we got this summer," Vander Waal said. "He's made an immediate impact. He's the hardest worker on the team, plain and simple. To come in that short of a time and take reps with the 1s, he's had a heck of a fall camp, and I can't wait to see what he does this season."
Click here to report a typo. Please provide the title of the article in your email.
Copyright 2023 NSU. All rights reserved.