Cenla product Jacobian Guillory stepping up for LSU's season opener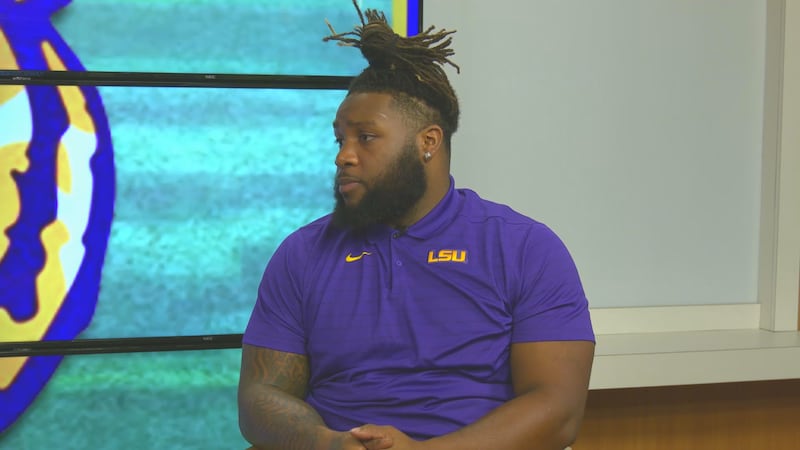 Published: Sep. 2, 2023 at 8:22 PM CDT
BATON ROUGE, La. (KALB) - A strength for the LSU Tigers heading into the 2023 season is the defensive line.
Preseason all-conference selections Maason Smith and Mekhi Wingo have garnered plenty of national attention leading up to the Tigers' season opener on Sunday, September 3 against 8th-ranked Florida State.
In last season's matchup, Smith tore his ACL on a non-contact incident on the first drive of the game ending his season before it could begin. Smith will once again miss the Florida State game in 2023 after receiving a one-game suspension just a few weeks before the start of the season.
In his place, former ASH defensive lineman Jacobian Guillory is expected to step into the starting role in the game against the Seminoles. Guillory appeared in 14 games a season ago, starting two of them and recording 14 total tackles.
Guillory is the oldest player in the defensive line room as he comes into this season as a redshirt junior. His teammate Makhi Wingo gave high praise for Guillory who is expected to line up next to Wingo against Florida State in Week 1.
"Tank is a very hard worker," said Wingo on Guillory. "He's had a tremendous spring, a tremendous fall camp and I'm really excited to see him go out there and play. He's become a much more vocal leader. He's the oldest guy in the defensive line room, so obviously he has the most experience. He's done a great job of stepping up to the plate knowing that this is his time and has to start this week."
LSU will kickoff against Florida State at 6:30 p.m. from Orlando, Florida.
Click here to report a typo. Please provide the title of the article in your email.
Copyright 2023 KALB. All rights reserved.