Exchange Club of Cenla showcases Freedom Shrine at Caroline Dorman Junior High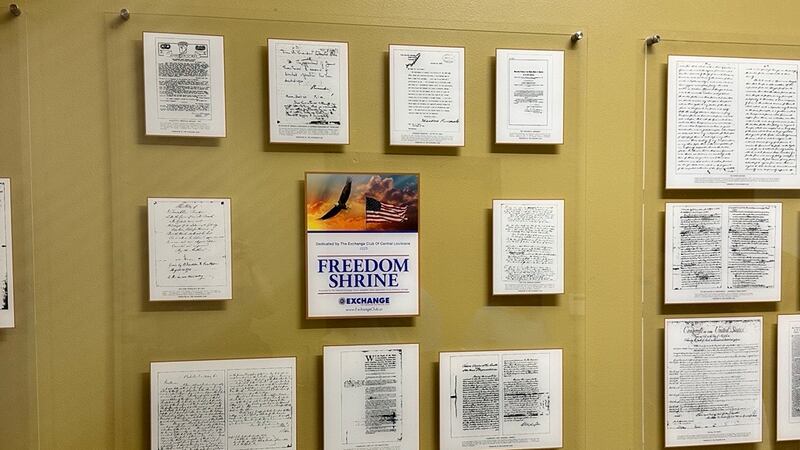 Published: Sep. 22, 2023 at 12:26 PM CDT
|
Updated: Sep. 22, 2023 at 1:32 PM CDT
WOODWORTH, La. (KALB) - As part of Celebrate Freedom Week, the Exchange Club of Central Louisiana showcased a Freedom Shrine for students at Caroline Dorman Junior High School. The Freedom Shrine is a collection of photographic copies of American historical documents like the Treaty of Paris, the Monroe Doctrine, and several others.
RELATED: State superintendent educates ASH students on U.S. Constitution
"It allows us to celebrate patriotism and the history of America," said Jennifer Bordelon, principal at Caroline Dorman.
Bordelon said it's a way to tie in world history and American history together for the students.
"And then tie that into our community, especially knowing that members of our own community brought this into them," said Bordelon.
Part of the Exchange Club's foundation is to support the community and the youth and Todd Leleux, a member of the Exchange Club, said this Freedom Shrine ties in with those foundational values.
"A project like this like really ties all three together," said Leleux. "We impact the youth, it's important to our community, and this is a literal representation of Americanism."
It also helps the students in their studies.
"I think this just gives them an actual pictorial representation of some of those historical documents that are going to lead to really rich conversations and instruction in the classroom, and a good jumping-off point and a revisiting point for what they're learning in class," said Bordelon.
The Exchange Club aims to help young people learn how important it is to make certain that our freedom is preserved.
"It's a great group of men and women who just want to serve the community and we have a blast doing it," said Leleux.
Click here to report a typo. Please provide the title of the article in your email.
Copyright 2023 KALB. All rights reserved.