Understanding an AC joint sprain and recovery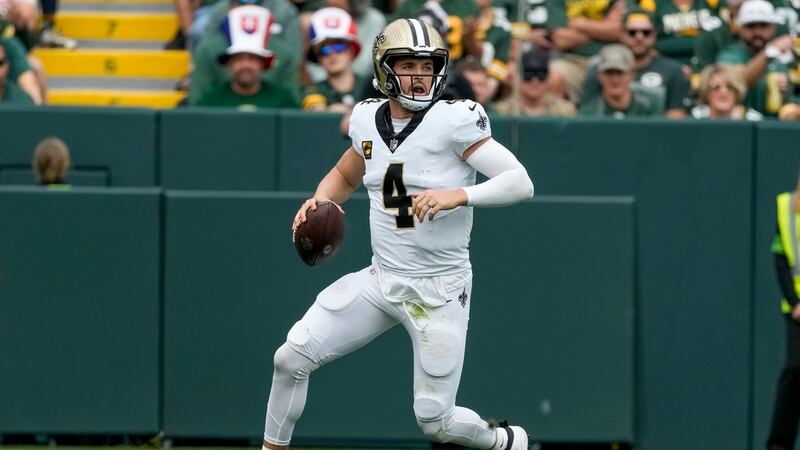 Published: Sep. 25, 2023 at 5:44 PM CDT
NEW ORLEANS (WVUE) - New Orleans Saints quarterback Derek Carr is considered "week-to-week" after a third-quarter sack against the Green Bay Packers sent him to the medical tent. He was diagnosed with an AC joint sprain.
Head Coach Dennis Allen says the team "dodged a bullet," and that the injury is not as severe as it could have been.
Who Dats are hopeful that Carr won't miss too much time.
"It was a really bad injury, but I think Jameis Winston will do good filling in [Derek Carr's] spot. The Saints have a really strong defense to cover some of the offensive troubles," said Saints fan Joesph Livoti. "[Derek Carr] was playing good at the beginning of the year, so it's sad to see him go."
When someone is tackled to the ground forcefully onto their shoulder, orthopedic surgeons say one of two injuries usually happen: a broken collarbone, or the lesser of the two evils - an AC joint sprain or separation.
"It is a very common football injury that we commonly see. A lot of time it's quarterbacks who are sacked to the ground or running backs, usually from head on contact or some contact with the ground," said Dr. Kevin Watson, Orthopaedic Surgeon at Orthopaedic Associates of New Orleans.
Understanding the AC Joint:
The AC joint, short for Acromioclavicular joint, is a crucial part of the shoulder complex. It is where the collarbone (clavicle) meets the highest point of the shoulder blade (acromion). This joint plays a pivotal role in stabilizing the shoulder, especially during overhead movements and impacts.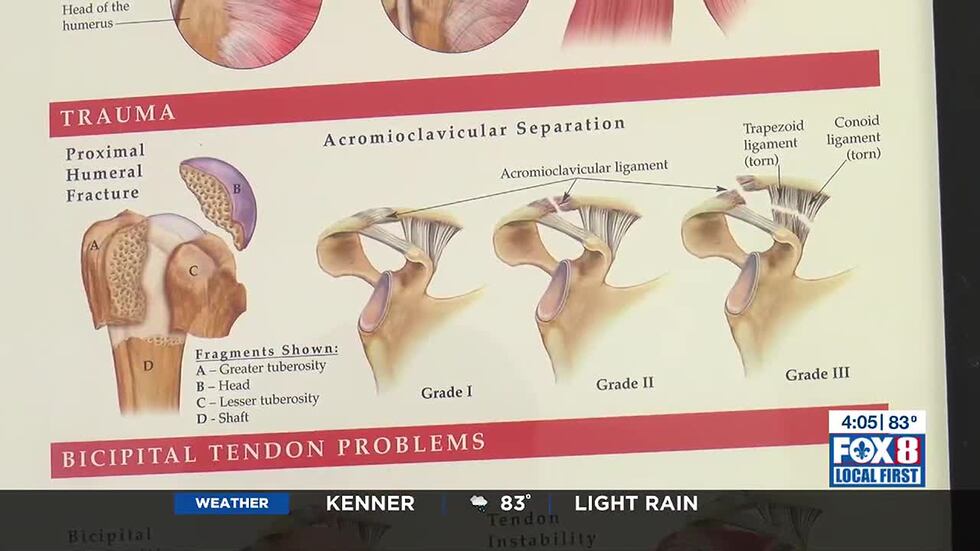 What Does an AC Joint Sprain Entail?
An AC joint sprain occurs when the ligaments connecting the collarbone and the shoulder blade are stretched or torn due to a sudden impact or forceful movement. In Derek Carr's case, the injury likely resulted from a tackle or fall during a game. The severity of an AC joint sprain can vary from mild to severe, depending on the extent of ligament damage.
"You can tell because the arm drops down a little bit. The shoulder is lower on the opposite side. They're usually supporting it cause there's a bruise to the rotator cuff and he can't support the arm," said Dr. Felix Savoie, Chairman of the Department of Orthopedic Surgery at Tulane University. "Those ligaments do heal but they're not healed quite as well as they were originally made. So there is some increased risk for re-injury for another blow or hit to that area."
Doctors say there are six types, or grades, of AC joint separations. Grades four through six are considered severe injuries and almost always require surgery.
Grade One: Ligaments are stretched but not torn.
Grade Two: One of the ligaments is torn, while the others remain intact.
Grade Three: All of the ligaments around the joint are torn, indicating a severe injury.
For Carr, doctors the recovery process involves several important factors:
Rehabilitation and Physical Therapy: AC joint separation requires rehabilitation, which includes physical therapy to regain strength and range of motion. Sometimes, injections may be part of the treatment plan.
Bracing and Padding: To protect the injured shoulder, players can use bracing, taping, and padding. This is crucial, especially for quarterbacks, who are at higher risk due to the demands on their throwing shoulder.
Unique Challenges for Quarterbacks: Dr. Savoire points out that quarterbacks face unique challenges in their recovery. The rotator cuff and surrounding muscles play a vital role in their performance. Ensuring these muscles recover fully is critical for Carr's return to peak form.
Recovery Timeline: For most quarterbacks, Dr. Watson suggests that a full recovery from an AC joint separation would take approximately four weeks. However, for a quarterback like Carr, returning prematurely poses a significant risk, given the potential for re-injury.
Season-Ending Risks: Dr. Savoire warns that rushing back too soon can lead to a worsened injury, potentially even season-ending. This underscores the importance of Carr's cautious approach to recovery.
Critical Rehabilitation Measures: One key aspect of rehabilitation is the retraction and external rotation of the shoulder blade to create clearance for throwing. This step is critical for a quarterback's successful return.
It's worth noting that elite athletes, like Derek Carr, often heal faster than the average person due to their top-tier physical conditioning. However, age can be a factor, affecting the duration of recovery.
SAINTS HEADLINES
Five takes from Saints loss to Packers
Saints head coach Dennis Allen updates Derek Carr injury, recaps loss to Packers
Saints fan reaction to loss and Carr's injury
See a spelling or grammar error in our story? Click Here to report it. Please include the headline.
Subscribe to the Fox 8 YouTube channel.
Copyright 2023 WVUE. All rights reserved.