New Orleans council grants two week continuance for mayor's spokesman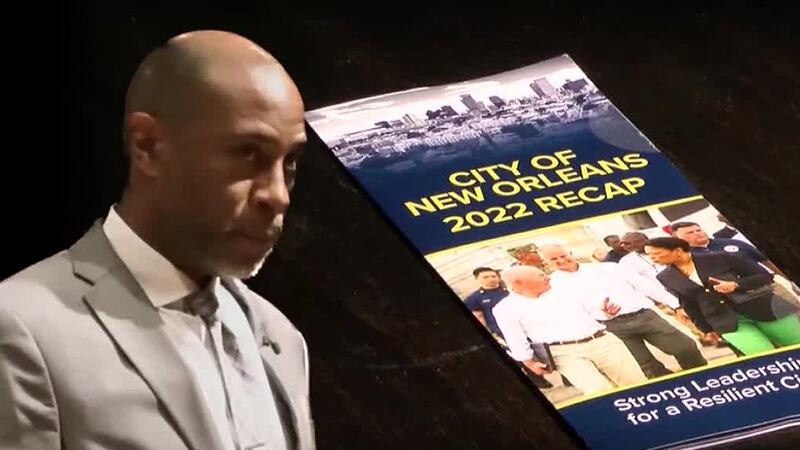 Published: Oct. 3, 2023 at 8:08 AM CDT
|
Updated: Oct. 3, 2023 at 12:18 PM CDT
NEW ORLEANS (WVUE) - Mayor LaToya Cantrell's communications director Gregory Joseph was granted two weeks to find a lawyer before appearing before the council, which is debating removing him from his position.
Joseph has been under scrutiny for his alleged involvement in distributing pamphlets touting the mayor and the city's accomplishment at the same time as the "NoLaToya" recall campaign.
New Orleans City Attorney Donesia Turner appeared before the council on Tuesday (Oct .3) without Joseph, seeking to push back the hearing date so he could find a lawyer to represent him.
The council begrudgingly granted the two-week continuance but questioned why he did not simply ask the council for the extension and why it appears he is not taking the allegations seriously.
Last month, the council formally charged Joseph with gross misconduct, incompetence, and neglect of duty, alleging that he violated several city policies by disseminating pamphlets that prominently featured Mayor Cantrell's name and image.
The pamphlets were distributed to thousands of voters at the height of the recall campaign.
Councilmembers assert that Joseph's action violated city policies, including the misuse of public funds for partisan political purposes, authorizing work without a valid contract, and providing false testimony under oath to the council.
"I don't think the City of New Orleans can employ someone who is not only dishonest with the City Council but also dishonest with the public," Councilwoman Lesli Harris said.
RELATED STORIES
Oliver Thomas suggests Cantrell administration, City Council take joint retreat
Council grills mayor's communications director over controversial mailers
Joseph contends that the $50,000 worth of pamphlets were intended solely to inform the public about the successes of Mayor Cantrell's administration and were not meant to influence the recall campaign.
"It's you all who put this into the context of the recall. You're saying it's about the recall. I'm here to tell you from my position; I never, ever, ever, ever considered the recall to be a threat to this office—never," Joseph said.
After last month's hearing, councilmembers gave Mayor Cantrell the option to terminate Joseph, which would have eliminated the need for Tuesday's public hearing.
Mayor Cantrell declines, defending Joseph's actions, saying that he had done nothing wrong.
The hearing begins at 10 a.m. at City Hall.
See a spelling or grammar error in our story? Click Here to report it. Please include the headline.
Subscribe to the Fox 8 YouTube channel.
Copyright 2023 WVUE. All rights reserved.