Family speaks out after child suffers bite marks from L.S. Rugg Elementary
KALB EXCLUSIVE
Published: Oct. 9, 2023 at 5:39 PM CDT
|
Updated: Oct. 9, 2023 at 6:12 PM CDT
ALEXANDRIA, La. (KALB) - A family is speaking out after their child suffered from bite marks after attending L.S. Rugg Elementary School in Alexandria. In an email sent to KALB, the family said the school is 'infested with fleas'
On October 5, Thomas Sands, the father of a student at L.S. Rugg, received a call saying the school had an infestation of fleas and mold.
"We then asked our daughter what was going on. She explained to us that there was a flea infestation," said Sands.
It was a shock to Sands when his daughter came home from school to discover bite marks on her body.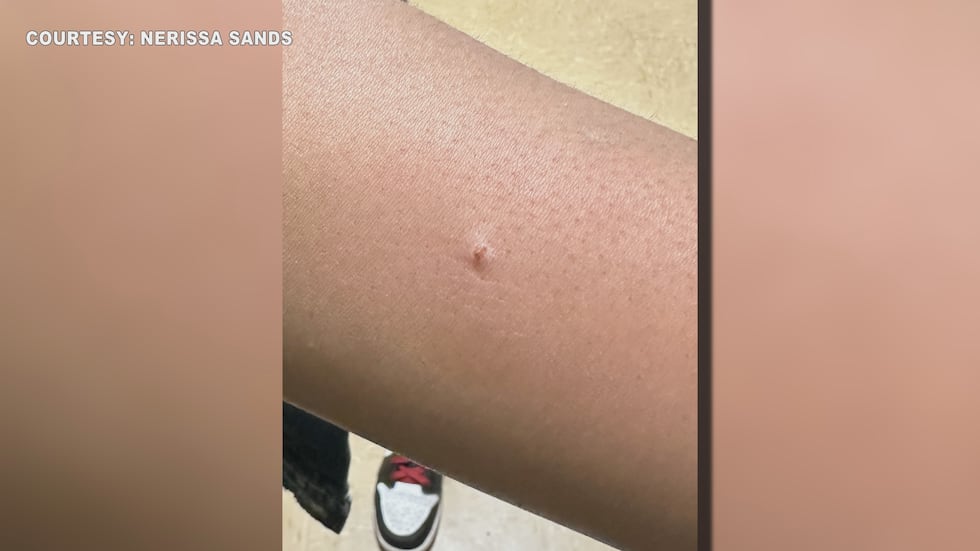 "We had no idea this was going on and the school said nothing to us," Sands said. "When we called Dr. Brown, the principal/administrator, she instantaneously said that she was not at liberty to discuss with us what was going on because the question was asked, 'Why was the parents not notified about this issue?' And she said, 'I'm not at liberty to discuss it with you.'"
That is when Sands wrote a letter to Rapides Parish Superintendent Jeff Powell, prompting Powell to implement steps to address those issues at Rugg, such as school closure, professional pest control, mold remediation, communication and updates and preventative measures. After making the issue public on Facebook, other parents then figured out the school had issues with fleas.
"Most parents didn't know that this issue was going on until the Facebook message had come out. It's not about my one child because it was said that one out of 500 children experienced this, but it's just not about my child, but it's about the other 499 children that attend L.S. Rugg."
Here is a statement from RPSB sent to KALB:
L.S. Rugg sent a letter to parents admitting to the infestation of fleas and fungal activity in the school's cafeteria, also stating that a licensed pest control company has been hired to address the issues: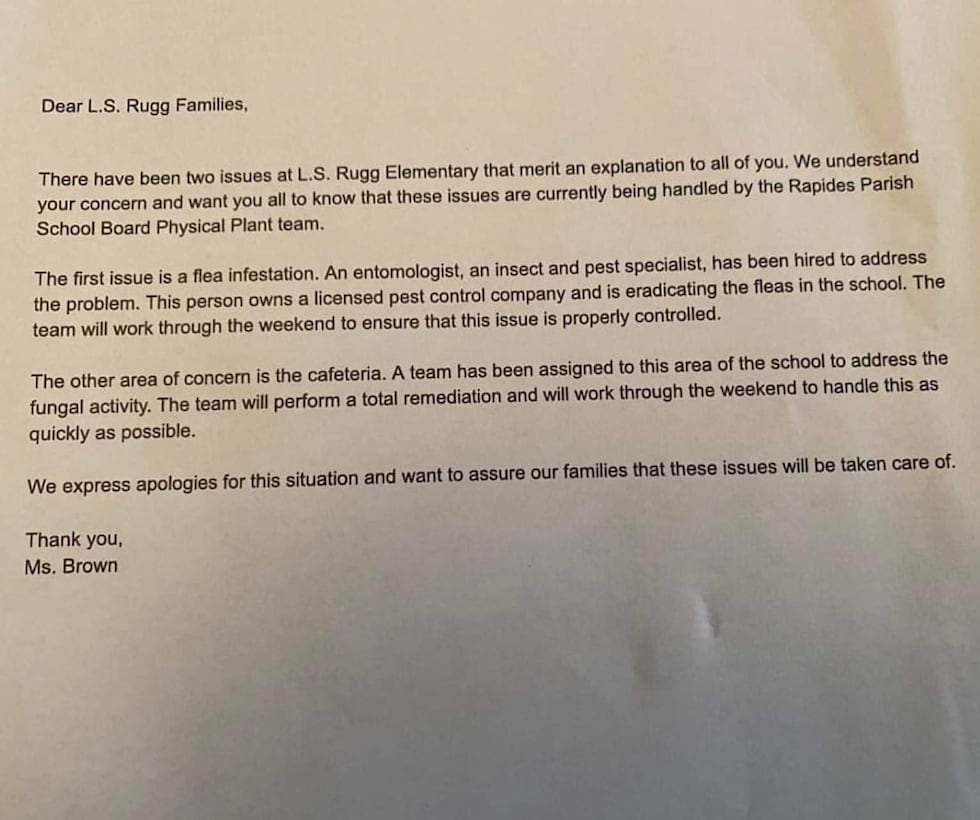 Sands has not brought his daughter back to school because of this and wants to see more change happen.
"I would tell Jeff Powell we want the school to be fixed in such a way that it's safe not only for our children but the faculty and staff," Sands said. "They deserve better, and I want to see a letter of clearance before my daughter returns back to school."
Sands said this problem would not be fixed in two days but said that we are all in this together. He believes this will show solidarity among us as a community.
Click here to report a typo. Please provide the title of the article in your email.
Copyright 2023 KALB. All rights reserved.