Educators Rising students visit with LCU education professors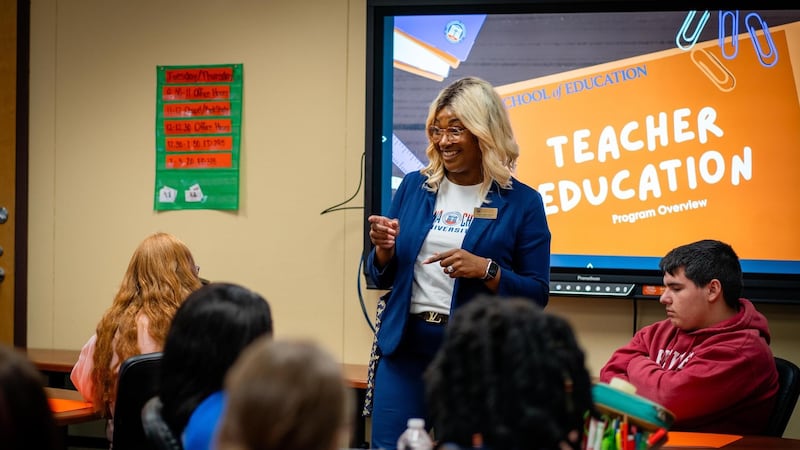 Published: Oct. 11, 2023 at 4:25 PM CDT
PINEVILLE, La. - Louisiana Christian University hosted Educators Rising students from Tioga High School and Pineville High School on Monday to connect students interested in becoming teachers with professors who shared information about the process of becoming educators.
THS adviser Sarah Smith and PHS adviser Teri Mayeux brought a total of 35 students from their schools for the event.
"It is vital that we support our local schools, as we have certified and trained many of their teachers," said Victory Lindo-Lemons, dean of the School of Education and Behavioral Sciences.
Lindo-Lemons coordinated the event, which included a campus tour, lunch, class visits and breakout sessions with education faculty. Each student received information about LCU and a T-shirt.
"LCU is an exceptional institution that provides students with various opportunities to enhance their skills and knowledge," Smith said. "I would be delighted to see my students pursue their education as an LCU Wildcat, particularly in the school of education."
Smith said one of the reasons she introduced her Educators Rising students to LCU was because of her own experience in the Master of Education program here. "Campus tours gave the students a chance to explore LCU's campus," she said. "While visiting, students were introduced to career opportunities and pathways that could lead them to their future endeavors. Students were able to experience a college course, which helped them connect the importance of the Educator's Rising curriculum currently being taught. Partnering with LCU allows Rapides Parish School Board to continue 'Growing their Own' teachers and building strong communities."
Blake Quales, assistant professor of education, spoke to students on "Winning with Students: Building Relationships."
"I shared with the Educators Rising group that being an educator involves more than just competence in content knowledge," Quales said. "You have to be able to connect with students. You have to reach them before you can teach them! Building relationships with students increases student engagement and achievement levels, creates a classroom culture that is welcoming and produces a high-performing team."
Quales said he was inspired to see so many young people from Rapides Parish interested in the teaching profession.
"As a male in the education profession, I was particularly excited to see several young men interested in becoming teachers," he said. "Students need to see positive male role models in their life. Schools benefit from having men rise up to the challenge of shouldering the exceptional responsibility of shaping the next generation. Seeing this interest on their part accelerated my enthusiasm to recruit more men for this field."
Copyright 2023 Louisiana Christian University. All rights reserved.