NSU Lady Demons finish well in loss to Nebraska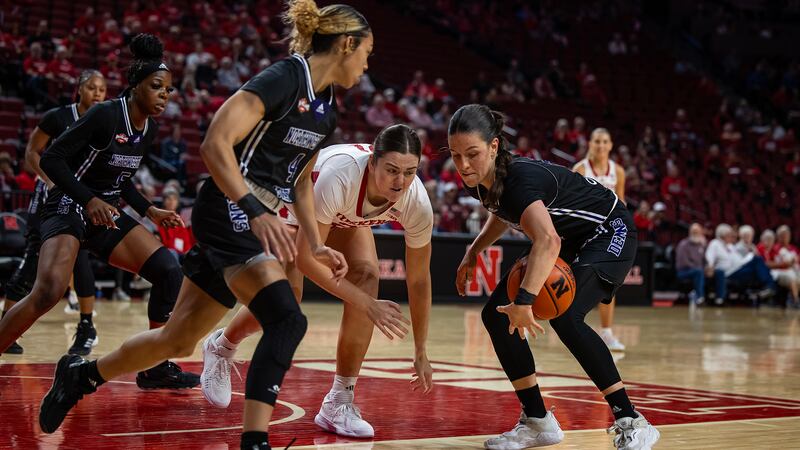 Published: Nov. 6, 2023 at 3:28 PM CST
LINCOLN, Neb. (NSU) - On opening day against a long and relentless Power 5 opponent and defense, Northwestern State finished the game with its best all-around quarter in a 90-42 loss at Nebraska.
"Tough loss today but we had some really good moments throughout the game," head coach Anna Nimz said. "Definitely had to work through some nerves and were finally really able to settle in around the fourth quarter. The goal, as always, is to grow and to learn. We will absolutely do that."
The Demons (0-1) attacked the Husker defense with more confidence and intensity over the final 10 minutes of the game, allowing them to work their way to the free throw line 12 times, opening things up away from the basket in the process.
The solid finish for the Demons began late in the third quarter when Jiselle Woodson knocked down a pair of 3s on back-to-back possessions, her first two made shots of the day, receiving feeds from Sharna Ayres on the first and Karmelah Dean on the second.
Dean served as the tip of the spear for the Demons in the fourth quarter, drawing four fouls in the period and sending her to the line for six shots. She converted 5-of-6 from the line and made 2-of-3 from the field to score nine of her team-leading 13 points over the final 10 minutes of the game.
Dean and Woodson scored on three straight possessions early in the quarter and on five of six trips down over the span of three minutes of game time. Ayres contributed eight points in the quarter, of her 11 in the game, all coming within the final two and half minutes of the game.
The Demons assisted on two of their five made field goals in the fourth quarter and had a game-low three turnovers in the quarter, an encouraging reduction from the first two quarters of the day.
Due in large part to the Nebraska press that persisted throughout the day, the Demons were forced into eight turnovers in the first five minutes of the game. The giveaways led to nine Husker points before the media break and a 16-0 lead for the home team.
NSU was only able to take five shots from the field during that time, compared to 11 attempts for the Huskers while also going 5-for-5 from the free throw line. After 14 turnovers in the first half, leading directly to 21 Nebraska points, the Demons had just seven in the second half and only nine Husker points.
Nebraska went 28-for-33 from the free throw line in the game, compared to the 13-for-19 by the Demons.
Ayres and Dean finished in double digits for the Demons with 11 and 13 points respectively and Ayres led the team with seven rebounds.
Copyright 2023 NSU. All rights reserved.