Lady Demons travel to Kansas, aiming to build off strong finish in opener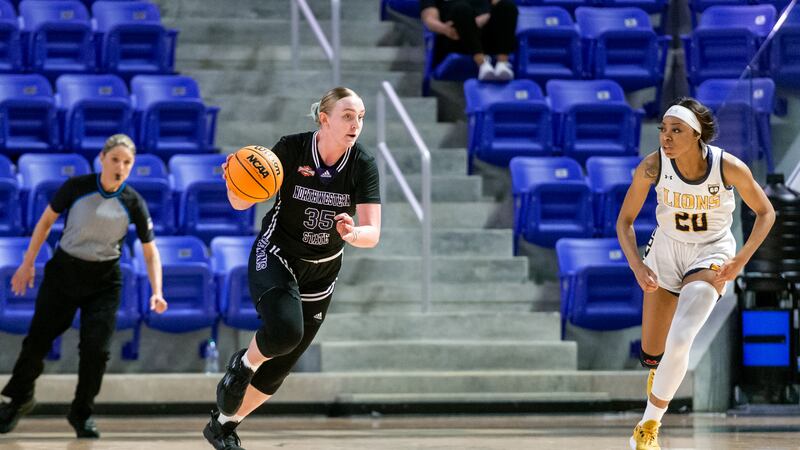 Published: Nov. 7, 2023 at 5:31 PM CST
NATCHITOCHES, La. - Northwestern State aims to build upon its strong fourth quarter in the season opener at Nebraska when it continues its difficult non-conference schedule at Kansas on Wednesday at Phog Allen Fieldhouse.
"Any time you step into an arena like Phog Allen Fieldhouse to play for the first time, there will likely always be some nerves and a lot of excitement," fourth-year head coach Anna Nimz said. "However, the girls settled into that game at Nebraska during the fourth quarter and I believe they'll carry that into our Kansas game."
The contest tips off at 6:30 and is being streamed on ESPN+ via Big 12 Now. It is the first meeting between the two schools since the 1985-86 season. The teams were scheduled to play two years ago but the game was abruptly canceled during pregame warmup due to COVID-19 concerns within the Jayhawk program.
In the most recent game at Nebraska, NSU (0-1) scored 20 points in the fourth quarter and will try to build on the positive finish against a Kansas team that is playing its regular season opener.
"Our overall confidence and offensive execution were highlighted in that fourth quarter," Nimz said. "Although the first three quarters didn't highlight much, it absolutely showed a team that never gave up and fought together for 40 minutes. That is something we can build off of going into this game."
Karmelah Dean poured in nine of her team-high 13 points in the final quarter to lead the charge. She was one of two Lady Demons to reach double figures in scoring, joining Sharna Ayres, who recorded 11 points.
In the final quarter, the Lady Demons shot 38.5 percent from the field and were able to find their way to the charity stripe, knocking down 8-of-12 attempts.
Following her 32-point performance in the Southland Conference Tournament game last season where she splashed seven 3-pointers, Jiselle Woodson drilled three more triples for a 9-point outing.
In her first action for NSU, sophomore Jenny Ntambwe scored three points and grabbed three rebounds in 10 minutes of action.
The Lady Demons aim for a faster start against the Jayhawks, as in the opener, Nebraska jumped out to a 16-0 advantage a little more than five minutes in.
KU is coming off a season in which it finished with a mark of 25-11 and won the WNIT championship.
The Jayhawks return their top four scorers from the team, led by center Taiyanna Jackson, who was recently Naismith Player of the Year Watch List.
With the top four scorers returning and momentum from last year's postseason run, KU was picked third in the conference preseason poll.
The Lady Demons will have their hands full with Jackson, who averaged 15.2 points and 12.7 rebounds per game, becoming the first player in school history to average a double-double since 1981-82.
Jackson was a unanimous choice for First Team All-Big 12 a season ago as well as Big 12 All-Defensive Team.
Zakiyah Franklin, the leading returning scorer for the Jayhawks at 15.7 points per game, was named preseason All-Big 12 and one of 20 candidates for the Nancy Lieberman Award, which is given to the top point guard in college basketball.
Holly Kersgieter was also named preseason all-conference.
NSU wraps up its string of three consecutive games away from home to begin the season with a trip to Tulsa on Sunday before coming back to Prather Coliseum for the first time this season on Nov. 16 for a game against Tarleton.
Copyright 2023 NSU. All rights reserved.