2022-2023 performance scores for Cenla schools revealed
Published: Nov. 13, 2023 at 6:03 PM CST
|
Updated: Nov. 13, 2023 at 11:16 PM CST
ALEXANDRIA, La. (KALB) - The Louisiana Department of Education released its performance scores from the 2022-2023 school year. Several school districts are reporting high scores in performance across their district, including some schools with an "A" performance rating.
Here's how Cenla school districts performed last school year:
Natchitoches Parish
Natchitoches Parish schools announced that the district has been recognized as a Top-25 school district in Louisiana for proficiency growth and overall performance growth, with no "F" ranked schools. Natchitoches Central High School has been ranked an "A" school for the first time in school history and one of the Top 10 high schools in Louisiana. The district has six schools receiving top gains and opportunity honoree titles from the 22-23 school year.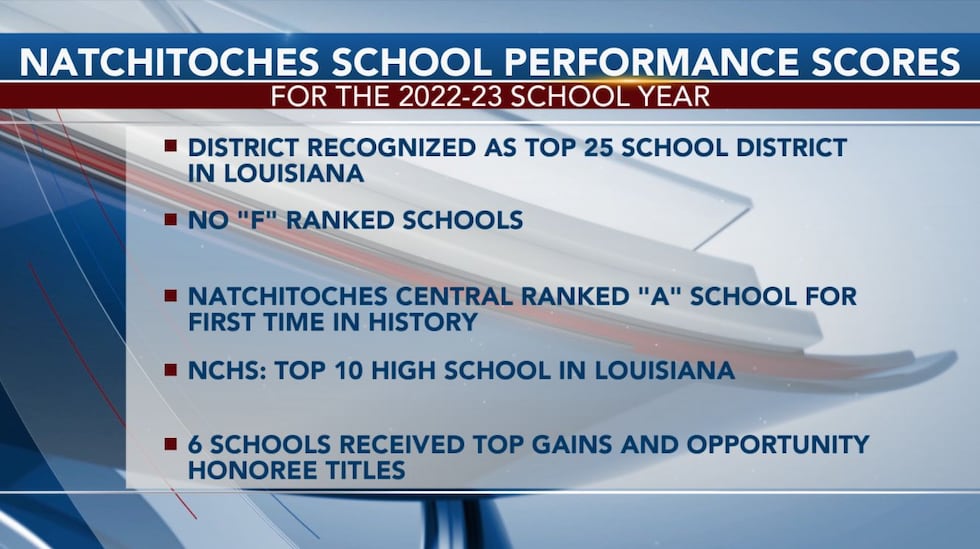 Grant Parish
Grant Parish reports that the school district is the 14th district in the state, with their rating rising from 85.1 percent to 87.1 percent with a "B" overall rating. Grant High and Georgetown High each earned an "A" score.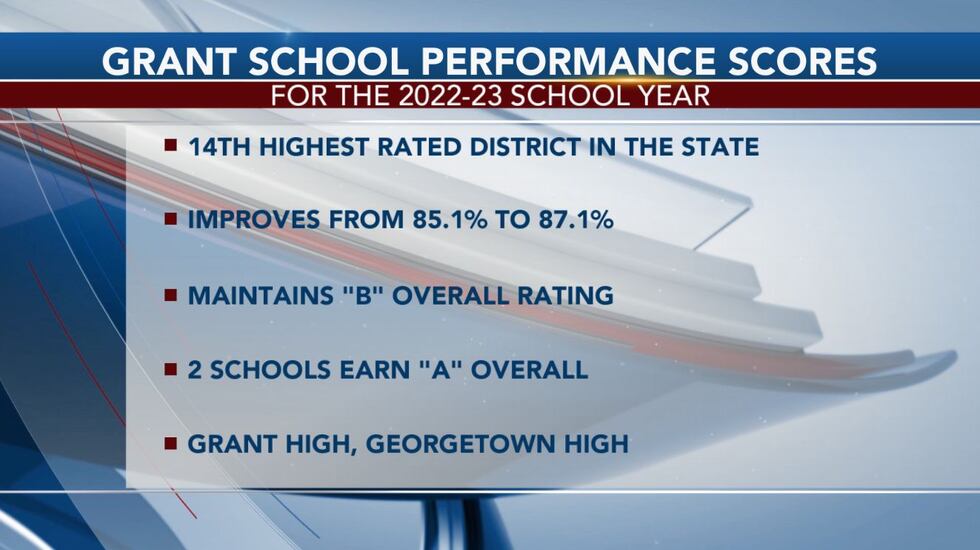 Vernon Parish
In Vernon Parish, the district rose from a 90.2 percent to a 90.5 percent performance score, which maintains the district's "A" overall rating. Five Vernon Parish schools earned an overall "A" rating, which were Anacoco High, Evans High, Leesville High, Rosepine High and Simpson High.
Avoyelles Parish
In Avoyelles Parish, the district went from a 78.5 percent rating to a 77.7 percent rating. Despite the decline, Avoyelles maintained their "B" overall rating from the previous school year. Bunkie Magnet High and Avoyelles High earned a "B" overall rating, while the Louisiana School for Agriculture Science earned an "A" overall rating.
Rapides Parish
Finally, in Rapides Parish, the district score rose from 80.4 percent to an 80.7 percent performance grade, which keeps the letter grade at a "B" across Rapides.
"I'm just thankful for the support of our community who always believes in our schools. I'm thankful for the support of our parents who see the hard work that their children's teachers are doing, and of course, thankful for the work of our educators across this community who believe in our students and are going to continue to challenge them in meaningful ways," said Rapides Parish School Superintendent Jeff Powell.
Eight schools received an overall "A" rating, including Alexandria Senior High, Buckeye High, Pineville High, Plainview High, Poland Junior High, Phoenix Magnet Elementary, Tioga High and Caroline Dorman Junior High.
"The truth of the matter is that the educators in Rapides Parish truly believe that our students can and will achieve as well or better than students all across this state and all across this country," Powell said. "They come to work every single day trying to bring that belief into reality."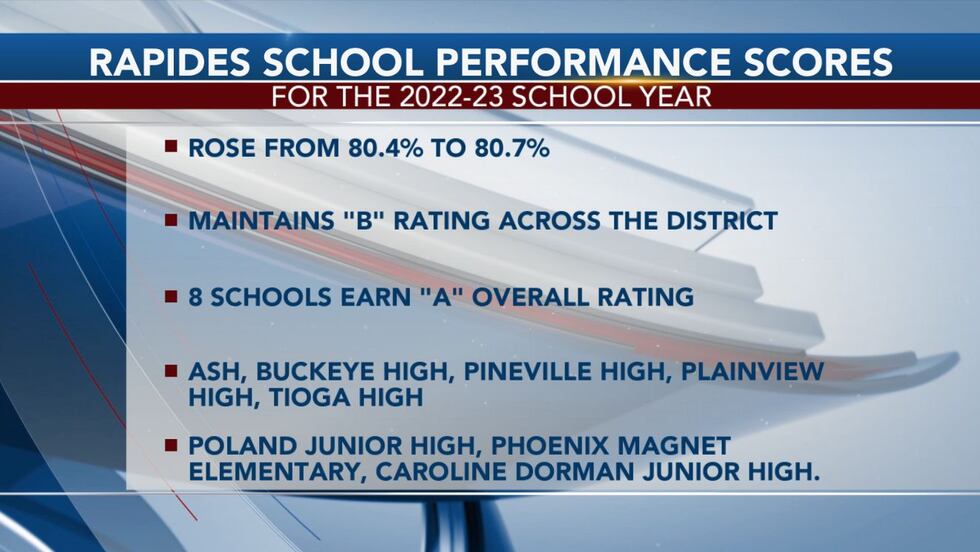 CLICK HERE FOR FULL RPSB PERFORMANCE SCORE RECAP
LDOE reports that the results show that the statewide school performance score now exceeds pre-pandemic levels following two consecutive years of growth. Statewide school performance scores improved one-point-four points to 78.5 percent overall.
LDOE said these results come one year after the state matched its pre-pandemic score of 77.1. Performance data for each school and school district is available now on the LDOE website.
Click here to report a typo. Please provide the title of the article in your email.
Copyright 2023 KALB. All rights reserved.