NSU Demons head east for First Coast Classic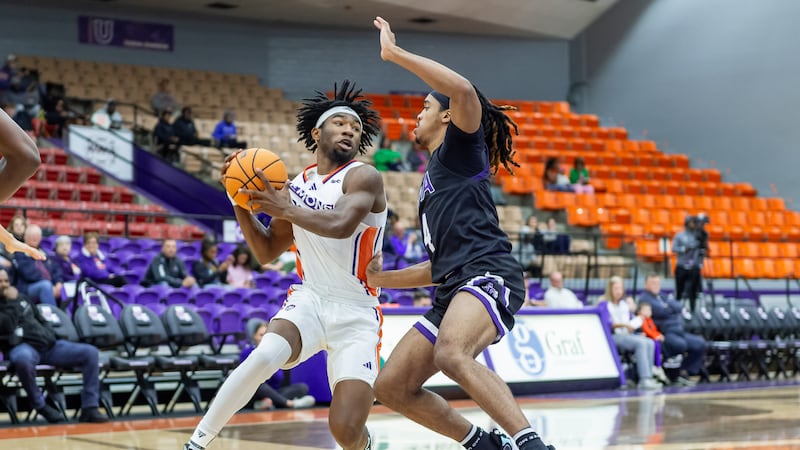 Published: Nov. 15, 2023 at 3:23 PM CST
JACKSONVILLE, Florida (NSU) – As the sleeper bus carrying the Northwestern State men's basketball team crossed the Alabama-Florida state line on Interstate 10 on Tuesday, there were several Demons whose faces lit up.
Despite being 450 or so miles from their current campus, this group of Demons relished a chance to return to Florida where they made their collective names in high school or junior college basketball.
That group will have plenty of chances to reconnect with family, friends and former teammates in the next three days as the Demons compete in the First Coast Classic hosted by the University of North Florida.
The Demons will face Maine (3 p.m., Thursday), North Florida (6 p.m., Friday) and Presbyterian (1 p.m., Saturday) in a three-day span. All three games will air on ESPN+.
"There's definitely going to be some talking, starting right away," said junior guard Chase Forte, who spent two seasons at Gulf Coast State College in Panama City. "As soon as we get down there. The new teams that are coming up, we always talk about who's coming out of the Panhandle (Conference)."
In addition to Forte, the Northwestern State roster features a pair of Chipola College products (Cliff Davis and JT Warren), a Tallahassee Community College player who played for first-year head coach Rick Cabrera (J.C. Riley Jr.) and a third former Chipola player (John "Manzie" Wilson), who finished his junior college career at Panola College.
Throw in Miami native Jimel Lane, who played one season at Lynn University in Boca Raton, and the Demon roster is flush with Florida ties.
"These guys are excited," said Cabrera, who led Tallahassee to a 52-16 record in two seasons including a berth in the 2023 NJCAA Final Four. "They're talking about it. A lot of our guys have family in Georgia and some in Florida. They're excited that their families can watch them play. I'm excited for them. If I can bring a smile to our players' faces, memories they had and family they don't see that much, that makes me feel good."
With a roster comprised of numerous transfers, including a number who have ties to Florida, the Demons' chemistry remains a work in progress.
The shared time in the Panhandle Conference helped many of the Demons come together quickly.
"Really more to Chase, because he never beat me," junior guard Cliff Davis said regarding the friendly trash talking on the team. "I'm 4-0 against him. With JT, we talk friendly because we've been together the last two years."
While those Demons were going head-to-head the past couple of seasons, they will all face a trio of opponents no NSU team has faced during the First Coast Classic.
NSU has never faced Presbyterian in any sport and has competed against Maine three times in women's basketball and North Florida in volleyball and softball.
The new faces each present a different challenge for the Demons (1-2).
Maine (1-2) ranks 28th nationally in steals per game at 11.3. North Florida (2-1) is one of the most prolific 3-point shooting teams in the country, connecting on an average of 11 3-pointers per game.
Presbyterian (3-0), meanwhile, opened the season with a win against SEC member Vanderbilt and ranks 18th nationally in field goal percentage defense by limiting opponents to 33.5-percent shooting.
Playing them in succession across three days provides the Demons with tests and a blueprint for March's Southland Conference Tournament where teams must win between two and four games in as many days depending on seeding.
"We don't know much about them – just through film," Cabrera said of the field. "That's college basketball. There's a first time for everything. At the end of the day, I try to keep things simple.
"Three games in three days will prepare us for the conference tournament. We have to make sure we're well rested but focused on the scout and on the opponent."
Copyright 2023 NSU. All rights reserved.