Maine pulls away from Demons in second half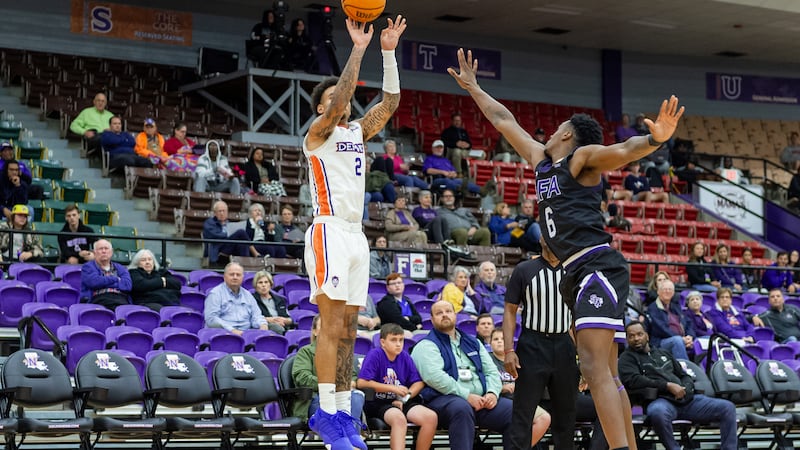 Published: Nov. 16, 2023 at 6:19 PM CST
JACKSONVILLE, Fla. (NSU) - The Northwestern State men's basketball team took a step forward offensively in the second half of its first game in the First Coast Classic on Thursday afternoon. Unfortunately, the Demons could not match the offensive strides Maine took after halftime as the Black Bears turned a back-and-forth battle into a 78-65 win inside the UNF Arena.
"We just couldn't sustain it in the second half," first-year head coach Rick Cabrera said.
After a slow start offensively, Northwestern State (1-3) shot 45.8 percent from the field in the second half, only to see Maine (2-2) find its offensive footing and sink 15 of 24 shots from the field (62.5 percent) in the final 20 minutes. The teams shot 38.2 and 42.9 percent, respectively, in a first half that ended with Maine holding a one-point lead.
Maine's offensive efficiency, along with a 10-2 run after the Demons tied the game at 40 on a Cliff Davis 3-pointer, helped the Black Bears hand the Demons their third straight loss.
The game-turning run came across 4:26 of the second half and allowed Maine to maintain at least a two-possession lead for the final 12:08 of the game. That margin stood in contrast to a first half that featured seven lead changes and four ties with no team holding more than a five-point lead.
Northwestern State kept things close in the first half because of its efficient work on the offensive glass, turning its nine offensive rebounds into 12 second-chance points. The Demons also made the Black Bears pay for their turnovers in the first half, turning eight Maine miscues into 10 points and a plus-six advantage in that category.
In the second half, the roles flipped.
Maine committed just four turnovers in the second half and flipped 10 Demon turnovers into eight points, but the biggest change for the Black Bears came on the inside as they outscored NSU 24-12 in the paint in the second half.
Coupled with a career-best game from guard A.J. Lopez (19 points), the offensive efficiency helped the Black Bears maintain at least a nine-point advantage for the final 9:04.
"We just didn't guard our own man," Cabrera said. "We were jumping for shot fakes. We were very undisciplined. That's on me. That's coaching. I'll always take responsibility for that. I take pride in defense, and we haven't defended for a full 40 minutes in three games. We have to make some adjustments and do what we have to do to win games. We'll watch film, try to get better and focus on (Friday)."
Jamison Epps paced Northwestern State with a career-high 16 points and added a team-leading eight rebounds. Cliff Davis added 14, including 4-for-8 shooting from beyond the arc, and Justin Wilson added eight points, the most in his four-game NSU career.
Lopez was joined in double figures by Ja'Shonte Wright-Mcleish (14), Kellen Tynes (14) and Peter Filipovity (11).
The Demons continue to play in the First Coast Classic at 6 p.m. Central on Friday, facing tournament host North Florida. That game will air on ESPN+.
Copyright 2023 NSU. All rights reserved.