NSU Demons' late rally falls short at North Florida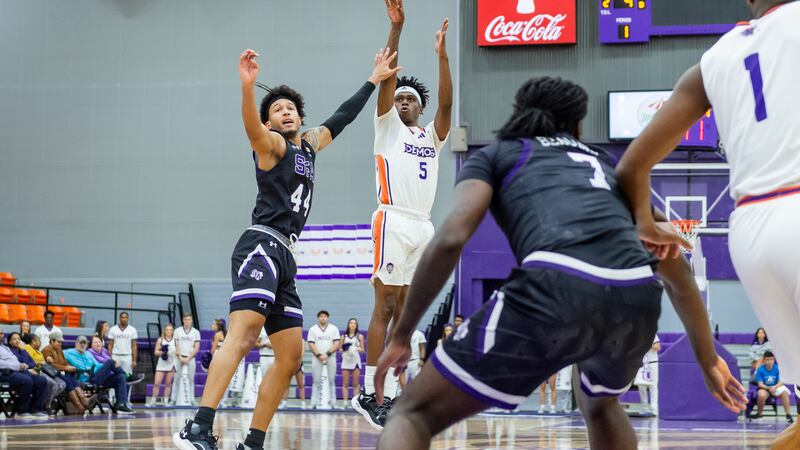 Published: Nov. 17, 2023 at 9:14 PM CST
JACKSONVILLE, Fla. (NSU) - The Northwestern State men's basketball team put together one big comeback early in Friday night's second game of the First Coast Classic.
The Demons nearly outdid themselves in the closing minutes but saw a valiant last-minute surge come up just short as tournament host North Florida held on for an 80-74 win at the UNF Arena.
"I'm proud of these dudes," first-year head coach Rick Cabrera said. "Losing stinks for all parties, and they don't want to lose. All I ask them to do is prepare the right way, play hard and put yourself in position to win. They were in position. We'll keep chopping wood, learn from our mistakes and get better."
Down by 13 with 2:48 to play and in the throes of a six-plus-minute drought without a field goal, the Demons (1-4) used a scintillating final 2:26 from Cliff Davis to eventually cut the Ospreys' lead to two points.
Davis scored 11 of his 20 points in the final 2:26, tallying all but two of the Demons' points in a 13-0 run that pulled NSU within 76-74 with 20 seconds to play.
The run began with a pair of Davis free throws and saw him go 8-for-8 from the free-throw line and add a 3-pointer off a brilliant cross-court feed from Braelon Bush with 42 seconds to play. That long-range bucket was the first NSU field goal in nearly eight minutes following a Ryan Forrest jumper with 8:29 to play.
"Cliff is Cliff – he can score at a high clip," Cabrera said. "You have to give him some freedom, and you can't constrict him or he won't score like he can. I wasn't surprised with how he played down the stretch."
With 20 seconds to play, Davis was fouled on a 3-point attempt and sank all three free throws, pulling the Demons to within two points, the closest the game had been since a Justin Wilson dunk cut North Florida's lead to 57-55 at the 9:34 mark.
That's when the Ospreys (2-3) turned to Friday night's difference maker – the 3-pointer.
North Florida used 3-pointers from Jake van der Heijden and Chaz Lanier to quickly re-establish a three-possession lead and then kept the Demons scoreless for 4:34, building a 10-point lead in the process and setting the stage for the Demons' second 13-0 run of the night.
The Demons' first 13-0 surge came after the Ospreys surged to a 20-8 lead slightly more than eight minutes into the game. Once the NSU defense settled in, Forrest began to assert himself offensively.
A freshman from Marion, Arkansas, Forrest had five points in the early surge, giving NSU its lone lead of the game with a jumper at the 6:54 mark of the first half.
Despite missing the closing minutes of the game, Forrest finished with a career-high 25 points while Davis added 20, giving the Demons their first pair of 20-point scorers in the same game since DeMarcus Sharp (25) and Isaac Haney (23) hit the mark against Southeastern on Feb. 16, 2023.
Forrest hit 10 of his 18 shots from the field before body cramps sidelined him for the majority of the final 10 minutes.
"We always knew Ryan had that talent, but I needed Ryan to be a downhill guy and finish at the rim," Cabrera said. "He did that. If we have him down the stretch, I can't say we win it, but we have our chances. He was in such a groove on the offensive end."
The high-scoring duo, however, could not overcome a barrage of North Florida 3-pointers as the Ospreys connected on 12 of 30 3s, marking the most long-range buckets by a Demon opponent this season and the most since McNeese hit 15 on Jan. 5, 2023, in Lake Charles.
Nze hit five of those 3s en route to sharing team-high scoring honors with 17 points while Chaz Lanier matched him and added 10 rebounds. Ametri Moss (12), Nate Lliteras (11) and Dorian James (10 points, 12 rebounds) also hit double figures for the Ospreys.
The Demons complete their stay along the Florida coast on Saturday when they face Presbyterian. Tipoff is set for 1 p.m. in the first meeting between the Demons and the Blue Hose.
Copyright 2023 NSU. All rights reserved.