NSU Demons see comeback come up short against Presbyterian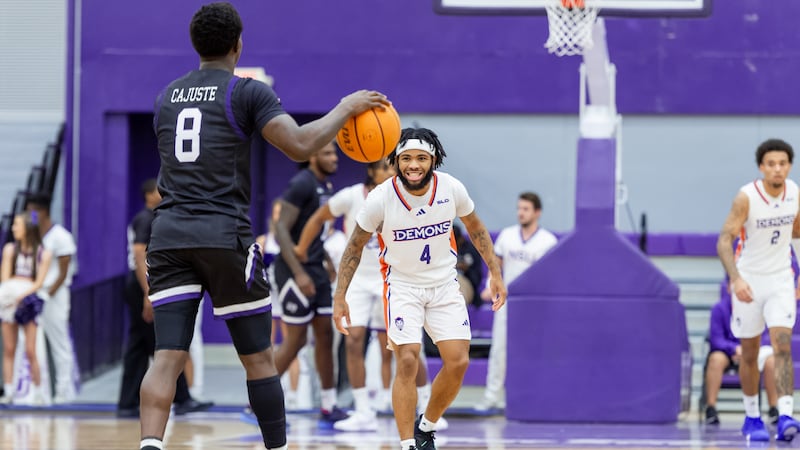 Published: Nov. 18, 2023 at 8:30 PM CST
JACKSONVILLE, Florida (NSU) – The Northwestern State men's basketball team again found a way to make things interesting at the First Coast Classic.
Playing their third game in as many days, the Demons got a strong start against Presbyterian before a sluggish middle part of the second half saw them fall down by double digits.
For the second straight game, NSU launched a late-game rally that fell just short as the Blue Hose hung on for a 78-75 victory in the Demons' final game of the multi-team event.
"We'll get there," first-year head coach Rick Cabrera said. "I'm proud of these kids. We were up 11 at one point and down 15 at another and cut it to a one-possession game. It's a learning experience. The coaching staff and I have to do a better job coaching so we can put our guys in the right position to succeed. I don't like moral victories, but it's about getting better, and that's what we're going to do."
After playing from behind for much of their first two games of the tournament, the Demons (1-5) were the team that started fast Saturday, building an 11-point, first-half lead on a three-point play from Braelon Bush at the 11:26 mark of the opening half.
NSU broke quickly at the outset as Ryan Forrest connected on a 3-pointer just 16 seconds into the game to give the Demons an early lead. Forrest finished with a game-high 25 points for the second straight game, matching his career high and giving him three 20-point performances in the Demons' first six games of the year.
Following Forrest's game-opening 3-pointer, Northwestern State maintained a lead for the next 25:45 of game time until Presbyterian's Crosby James converted a four-point play at the 13:59 mark of the second half to put the Blue Hose (5-1) up 43-42.
James' four-point play was the first of three consecutive possessions where Presbyterian connected a 3-pointer in a span of 1:34. Those nine points were part of a 12-1 run for the Blue Hose, who eventually built a 15-point lead with 6:39 remaining in the game at 68-53.
Presbyterian found its stroke from 3-point range in the second half, hitting 4 of 9 from distance after shooting 3-for-11 in the first half. Overall, the Blue Hose shot 53.3 percent from the field in the second half while the Demons were remarkably consistent from half to half – shooting 46.7 percent in the first and 46.4 from the floor in the second half.
Much like Friday night's game against North Florida, the Demons put together their most effective offense of the second half in the closing stages.
Down by 10 with 2:46 to play, Bush took the reins of the NSU offense and propelled the Demons within striking distance.
A 5-foot-8 guard from Silsbee, Texas, Bush tallied an NSU career-high 18 points with seven of them coming in the final 2:29.
With Presbyterian struggling against the Demons' press and trap, Bush scored Northwestern State's final six points, repeatedly getting to the basket. His layup with 21 seconds left pulled the Demons within one before Jonah Pierce blocked Bush's potential game-tying layup with 8 seconds remaining.
"Braelon played fearlessly," Cabrera said. "He has some deficiencies with his size, but it's also an advantage, and he used it to get to the rim. He had a chance late in the game to get there, and they made an even better play. That's the Braelon I want to see every day, and hopefully, that can give him some confidence to keep going."
Forrest gathered the offensive rebound – NSU's 11th offensive board of the game – but his 3-pointer was long and Presbyterian corralled the rebound to seal the victory.
Marquis Barnett led four Presbyterian players in double figures with 18 while Samage Teel added 16, Kory Mincy 13 and Kobe Stewart 11. Cliff Davis gave the Demons a third double-figure scorer, tallying 14 points, including 3-for-6 shooting from 3-point range.
The Demons will have their longest break of the season, not playing again until they continue their run of seven straight games away from home at ULM on Nov. 28. Tipoff is set for 6:30 p.m. in Fant-Ewing Coliseum.
Copyright 2023 NSU. All rights reserved.