Candidate's campaign sign in Pineville causes controversy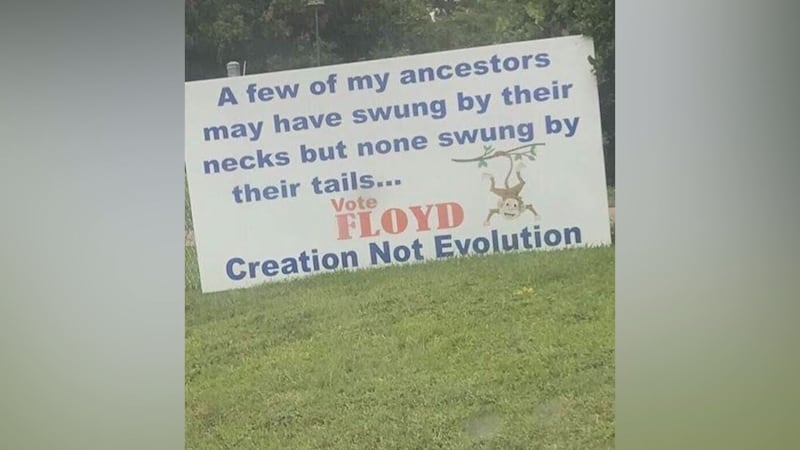 Published: Sep. 27, 2018 at 8:09 PM CDT
With elections fast approaching, candidate signs are popping up all over town. But, Thursday one in particular is catching the public's eye. KALB received a number of calls about a sign posted by a candidate running for a District C seat on the Rapides Parish School Board.
Candidate Jamie Floyd has signs that stray from the traditional format with signs that say, "I'm your Huckleberry", "Be Wise Ruby", and "Make the school board great again".
But, the sign that KALB was contacted about read, "A few of my ancestors may have swung by their necks but none swung by their tails...Vote Floyd. Creation not evolution." The sign was accompanied with the picture of a monkey hanging from a tree.
Some community members wanted clarification about the message.
"Very inappropriate," said community member Jerald Dixon. "I would not vote for him at all."
Others flat out said it was uncalled for.
"In the 60s and 70s that is something that was a racist comment that was used quite often," said community member Michael Kennedy.
Others, didn't see an issue with the sign.
"Actually those are just words and words never hurt," said community member Thelster Holmes. "I think it is ok."
We set up an interview with Floyd,who wanted to set the record straight, however he chose not to go on camera an hour before the meeting. Instead, he provided a statement.
"I'm sorry if I offended anyone with this sign," Floyd wrote. "I have used this line in a past Town Talk article and never once received a negative comment. I also ran it by other races before putting it out and they understood what I was saying. I do believe in creation and not evolution. That I am not sorry for."
The sign has since been taken down and Floyd said he will not use it again.