Central Louisiana churches ramp up security with volunteer teams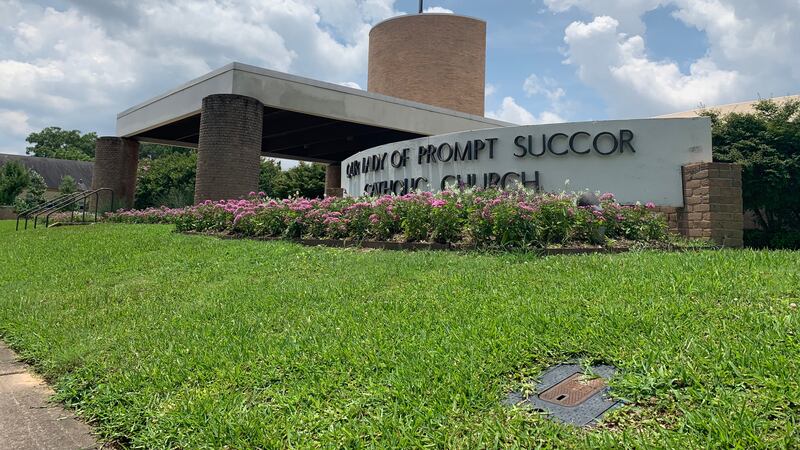 Published: Jun. 11, 2019 at 7:40 PM CDT
Last month the Alexandria Police Department arrested a man they say threatened a local priest in Alexandria.
Police said the man, identified as William Branch, entered Our Lady of Prompt Succor Church during a service and threatened a priest with a large knife. He was then taken to the Rapides Parish Detention Center, where he was charged with aggravated assault and terrorizing.
"He laid down the knife on the step of the altar and simply turned, and walked back out," said Prompt Succor Pastor Rev. Dan O'Connor.
No one was harmed during the incident, but Rev. O'Connor knew the church needed to finish the safety plan they started in the spring.
"Several of our staff members and several law enforcement officers are putting a plan together of safety, based on what other churches have done," Rev. O'Connor said.
The church panel is working to add more cameras and possibly lock doors during the service, with crash bars so those inside can get out. But, most importantly the plan tasks parishioner volunteers, including law enforcement, to be vigilant on Sundays.
"20 to 25 people, volunteers in various capacities, to train them," Rev. O'Connor said.
The safety plan is something churches across the Diocese of Alexandria have been working on for some time.
"Everything started literally the day after the mass shooting at the small church in Texas, about a year and a half ago," said Diocese CFO David Brook.
After a man opened fire on a Sutherland Springs Church, killing 26 people and wounding 20, the Diocese said local priests started asking for more security.
Brook said they brought priests in for training. They gave them a safety plan outline to take back and build upon based on their churches needs. The idea is to get everyone at church involved, using those that are law enforcement, medical personnel, etc. They come to worship on Sunday like normal, but also keep an eye out for anything suspicious.
Having a safety team on hand during worship has helped St. Juliana Church in Alexandria. They've also been able to address medical emergencies.
"If a person is sick they know how to treat that person," said St. Juliana Pastor Rev. Jose Robles-Sanchez. "If the person gets emotional, or whatever situation happens, they know how to do it. If a person gets aggressive they also know how to do it."
Rev. Robles-Sanchez took over St Juliana last summer, who already had a plan in place.
"When the people come they see that a state trooper is there because he comes to mass, not because he came to watch us because he came to mass," Rev. Robles-Sanchez said. "It gives me a good hint of security to me that whoever is coming has to think twice."
St. Juliana is also looking to add more cameras.
"It's a fact of life now and it keeps happening," Brook said. "So, we feel like we have to give our people the tools to handle it in a proactive thoughtful manner."
Rev. O'Connor never thought he would need extra safety measures.
"I didn't think it would come to this," Rev. O'Connor said. "It is it is an extra set of things to think about, things to be concerned about."
But, said he will do whatever it takes to keep the church safe.
"I have a sense of responsibility for the people that are here," Rev. O'Connor said. "It is a worry, but we put it in the Lord's hands. We put it in the very capable hands of all the volunteers and put the plan into place once we have it, and keep us as safe as humanely possible."
Brook said all churches in the Diocese are in the process of creating a plan or have one. Rev. O'Connor said they hope to introduce their safety plan to parishioners this summer.
A link to the report on Prompt Succor's incident can be found in the attached link.
Copyright 2019 KALB. All rights reserved.