Father arrested on way to baby's delivery; Police say there's more to the story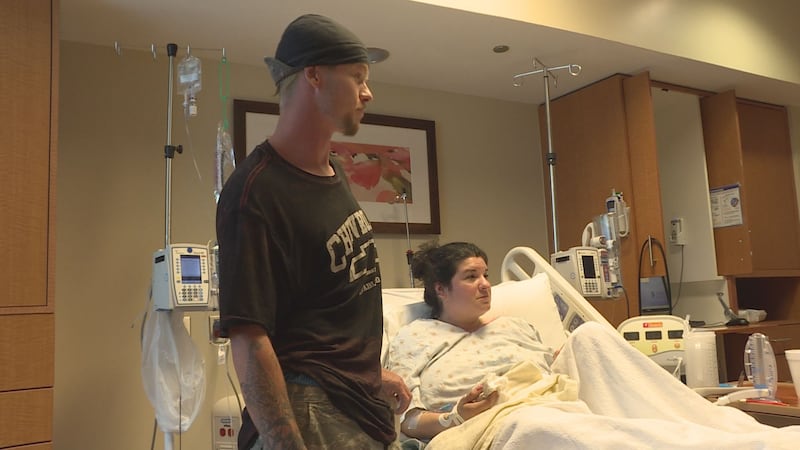 Published: Jul. 18, 2017 at 5:26 PM CDT
Most couples dream of the day their baby is born in hopes to experience it together. Well one couple from Grant Parish said they didn't get that chance, and they're blaming Creola police.
Monday night, a Facebook post started circulating surrounding a situation that the family says they went through. As Zak Evans and his wife, Bridget, were rushing to the hospital to have a baby, they said Creola police pulled them over and arrested Mr. Evans.
They're telling one story, but police said there's more to this Facebook post than meets the eye. We'll let you decide.
"No mother should have to experience that," expressed Mrs. Evans. "At all."
Mrs. Evans said it should've been the best day of her life.
"It was the most horrific moment for any mother, especially a first time mother not knowing what's going on," said Mrs. Evans.
It started when she went into labor Monday evening, seven weeks early.
"I went to the bathroom I saw blood all over my feet," said Mrs. Evans.
She said they immediately jumped in the car, put on their flashers, and headed to the hospital.
"No, I didn't have time to look at the speedometer," explained Mr. Evans. "I was worried about her, about the blood going down, and about my baby dying. I was doing what I had to do to get here."
As they were making their way out of Grant Parish, Creola Police Officer Don Crooks spotted them.
Police Chief Heath Landry said that's when Crooks got behind them as they were going triple digits and weren't using their flashers.
"The way I am understanding it is my officer clocked them doing 108 in a 55," explained Chief Landry. "He got behind him, cut his lights and siren on. The vehicle then started passing people on the side of the road."
He said Officer Crooks followed them for about five miles when they pulled over close to the Edgewood Drive Exit in Pineville. A Pineville police officer was waiting for them there. That's when the Evans' say they tried to explain the situation to the officers.
"My husband immediately started screaming 'my wife is in labor,'" said Mrs. Evans. "I started screaming 'I am in premature labor!' And he started screaming 'get out of the car!'"
Mr. Evans said he put his hands out the window and complied. But, the officers said the high rate of speed, combined with not pulling over, made them pull out the handcuffs.
"From my understanding, Mr. Evans was very irate, threatening everyone if he missed his wife's pregnancy," said Chief Landry.
"I know I was mad," said Mr. Evans. "But I was scared for her and my kid. I wasn't worried about me."
Mrs. Evans was taken by ambulance to Cabrini Hospital. Mr. Evans was taken to the Rapides Parish Jail to be booked. As he was about to be transferred to Grant Parish, Cabrini Hospital intervened.
"My officer decided to write citations because apparently a doctor called that there might be issues with the pregnancy," explained Chief Landry.
Mr. Evans got a ticket for speeding, flight from an officer and careless operation. Officer Crooks dropped him off in the hospital parking lot.
But the Evans' said it was too late.
"So I get up here and I had missed my baby being born," expressed Mr. Evans. "That's the only thing I was aiming for. To see my baby being born."
"I literally had to experience bringing my baby into this world without her father," cried Mrs. Evans.
Chief Landry said the arrest was a public safety issue.
"My officer explained to him, 'what if you would've hit another vehicle on the way there then you would've injured yourself, your wife, your baby, or someone else,'" said Chief Landry.
Despite all that, the family said they're still looking at the bright side. Four pound, four ounce Letty Evans is going to be just fine.
"She's alive," said Mrs. Evans. "Thanks to the Cabrini team, she's alive."
We did ask if Creola Police had a dash cam or body cam rolling at the time. They said their police department of three officers doesn't have that equipment.