Fort Polk responds to reports of horses shot at Peason Ridge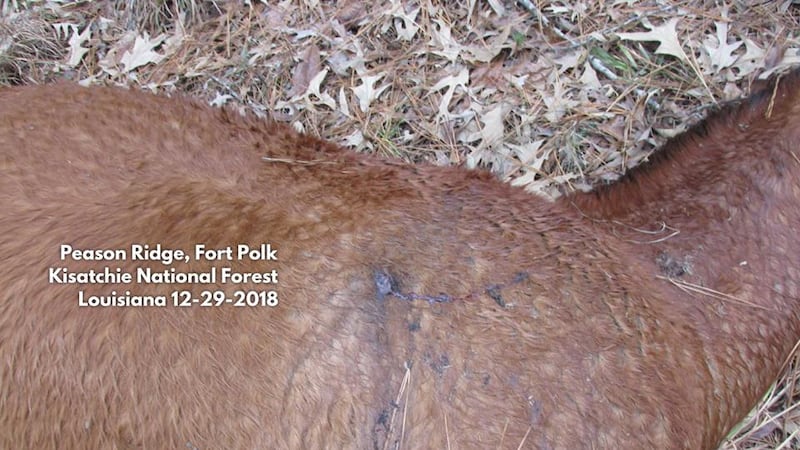 Published: Dec. 31, 2018 at 11:10 AM CST
On Monday, Fort Polk issued a statement in response to the discovery of five horses apparently shot to death in the northwest Peason Ridge area over the weekend. Portions of the wildlife protected land is used for military training. Fort Polk's Game Enforcement Section is investigating.
The graphic scene was made public on Saturday by Amy Hancehy, president of Pegasus Equine Guardian Association, a Louisiana wild horse advocacy group. Hanchey posted to the Fort Polk Horses of Kisatchie Facebook page after a resident informed her about the discovery. Then on Sunday Hanchey says she got a first-hand look on Sunday. Hanchey examined the bodies of the five horses, including two foals in an area she said a particular herd is known to roam. She said she doesn't believe it could have been a hunting accident.
"This is like a herd family, a whole family that was maliciously shot and what's interesting is that all these horses were shot pretty much in the same location on their body and it was one kill shot except for a mare whose face was blown off so based on what we could figure is that she was shot and then someone actually walked up to her and shot her in the face, pretty close range."
Hanchey added that at one point she noticed a group of horses likely belonging to the same herd looking at her "as if to say, what are you doing to our friends, our family. It was really sad, the would whinny."
Information about the incident can be reported to Fort Polk Criminal Investigation Command at 337-531-2931/7184 or the Directorate of Emergency Services Game Enforcement Section.
A $5,000 reward for information is also being offered by Van Demars, according to the Fort Polk Horse of Kisatchie Facebook page.
Mr. Demars can be reached at (772) 501-5197, Amy Hanchey at (337) 739- 0036 or people can message the page directly or email Hancehy at admin@pegasusequine.org