Funeral arrangements released for Bishop Emeritus Ronald P. Herzog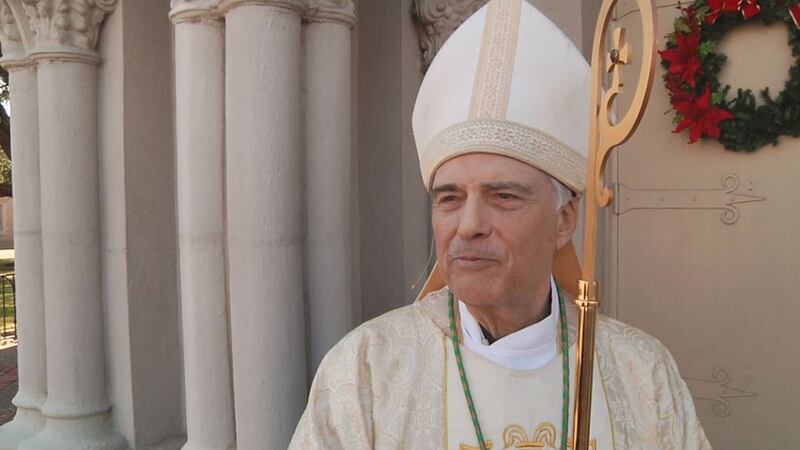 Published: Apr. 17, 2019 at 6:08 PM CDT
The Most Reverend Ronald Paul Herzog, Bishop-Emeritus of the Diocese of Alexandria, passed from this life at CHRISTUS St. Frances Cabrini Hospital on April 12, 2019, after a brief illness.
Born in Akron, Ohio on April 22, 1942, the only son of Paul Herzog and Kathyrn Donahue, Bishop Herzog spent his early years in Natchez, Mississippi.
He was an alumnist of St. Joseph Seminary College, where he completed his high school and junior college studies, and of the Pontifical College Josephinum in Ohio, where he completed a B.A. degree in philosophy and an S.T.B. degree in theology. He was ordained to the priesthood for the Diocese of Natchez-Jackson on June 1, 1968, where he held pastoral and staff posts until the creation of the Diocese of Biloxi in 1977. Bishop Herzog served the Diocese of Biloxi both as a pastor and as Director of the Diocesan Worship Office and as Defender of the Bond and was named a Monsignor with the rank of Domestic Prelate by Pope John Paul II in 1987. He served the state of Mississippi as a chaplain in the state National Guard for 30 years, saw active duty in the Persian Gulf War and retired with the rank of Brigadier General. For his years of faithful service, he was decorated with the Mississippi Cross.
Named by Pope St. John Paul II on October 27, 2004, Bishop Herzog was ordained and installed as the 11th Bishop of Alexandria on January 5, 2005. An active member of the United States Conference of Catholic Bishops, Bishop Herzog served as a member of various USCCB committees and as the Catholic co-chair of the Anglican-Roman Catholic Theological Consultation in the US. He also served on the USCCB Communications Committee for 10 years.
He is survived by members of his extended family, Rev. Dr. Bill Lyons, Bette Jean Lyons, and Mary Elaine Lange.
Visitation will be held at St. Francis Xavier Cathedral on Monday, April 22, from 8:30 a.m. to 10:00 a.m. Morning Prayer for the Dead will be offered at 10:00 a.m. and the Funeral Mass will begin at 11:00 a.m. with The Most Reverend Gregory Aymond, Archbishop of New Orleans and Apostolic Administrator of the Diocese of Alexandria presiding. Interment will be at the Priests' Cemetery at Maryhill in Pineville. 4th degree Knights of Columbus and priests of the Diocese of Alexandria will serve as pallbearers.
Donations in memory of Bishop Herzog may be made to the Diocese of Alexandria Seminary Burse or the Priests' Retirement Fund.
Copyright Diocese of Alexandria, All rights reserved.