In surprise move, Derrick Stafford takes the stand in his own murder trial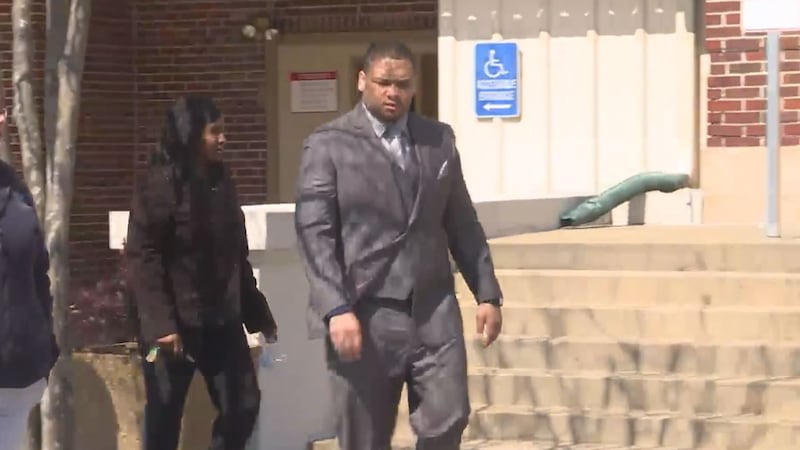 Published: Mar. 24, 2017 at 10:57 AM CDT
On Friday, Derrick Stafford finished testifying on the fifth day of his trial in Marksville. Stafford is one of the two deputy Ward 2 city marshals accused of the murder of 6-year-old Jeremy Mardis and the attempted murder of his father Chris Few in November 2015.
"It makes me feel horrible," Stafford said, referring to that night. "I have children the same age."
In regards to Chris Few, he said, "I was defending fellow officers."
Stafford's attorneys asked him to give some background on where he grew up and family. He said, "we're close," and discussed work history.
"I wanted to go into the military and follow in my father's footsteps," Stafford said. Instead, he chose law enforcement. Prior to becoming an officer, Stafford worked at the VA and with Pinecrest.
He also talked about his wife and three young children.
"I have a great relationship with my children," he said. "I try to be a supportive father."
His children don't know about shooting.
In 2005, Stafford took a civil service exam and joined the Cheneyville PD, but said he didn't like it because all he did was give tickets.
Stafford left Cheneyville PD and signed up for Acadiana Police Academy. It's a 10-week course with extensive training.
Stafford became POST certified and joined Marksville PD. In total, he has 12 years law enforcement experience.
He then talked about weapons, "The vehicle...anything can be turned into a weapon."
At the time of the shooting, Stafford was working four law enforcement related jobs. He said that Ward 2 had NO QUOTA that he knew of.
Referring to vehicle pursuits, he said, "First and foremost we have to keep the public safe. Second, officer safety. Third, try to end pursuit safely."
The defense asked Stafford why he fired his weapon.
"When I exited the vehicle, Few put his vehicle in reverse," Stafford said. "He backed it right into Greenhouse's vehicle. He (Few) put it back in drive. We were giving loud verbal commands - stop your vehicle, put your hands up. Few looked back at us. He put his vehicle in reverse. I had no choice but to save Norris. It's the only reason I fired my weapon."
"I never knew a child was in the vehicle until Mr. Brouilette said so," Stafford continued. "Never in a million years did I know a child was in that vehicle. I would have called off the pursuit myself. That is the truth."
The state began to cross-examine Stafford. John Sinquefield asked about Greenhouse knowing Megan Dixon. Stafford said it was never discussed.
Stafford went over the pursuit again. He said the original plan was to try to box Few in, couldn't pull it off because couldn't get around Few.
He said 3 things could happened at the dead end: Few would give up, Few would run or Few would ambush the officers. He thought last two could happen most.
"I believed Few was using his vehicle as a dangerous weapon to hurt one of us." Stafford explained "As I shot, I backpedalled for safety. I never saw his hands go up."
Stafford said he never had intentions of killing Few, explaining police training, "We are taught to stop the threat."
John Sinquefield started getting combative with questions, asking compound questions, which is not allowed. The defense shouted mistrial twice.
"The only person who knew a child was in that car was his father," Stafford said.
Sinquefield told Stafford up until that point, Few only had misdemeanors. Stafford said no, and listed a series of felonies Few committed.
Sinquefield asked why Stafford didn't talk the night of the shooting. Stafford said State Police wanted him to wait for two sleep cycles, which is standard.
Then, Sinquefield handed Stafford a photo of Jeremy dead, saying, "Does that show you what a 40 caliber does?"
At this point, Stafford cried heavily on the stand.
Next, Goins asked about the MLK area being dangerous. Stafford mentioned the shooting that happened on Wednesday this week.
Goins brought up Parnell's testimony and how he didn't see Few's hands up either. Stafford agreed.
"It made me think of my kids," Stafford said of the shooting. "You want to know how I feel? It makes me feel like s**t. He was a kid."
When asked why he didn't render any aid, Stafford replied, "I was in complete shock."
---
Near 4 p.m. on Friday, the defense rested its case and the state will not call rebuttal witnesses.
Closing arguments are about to begin.
---
Around 4:30, The state wrapped closing arguments in the Derrick Stafford trial, saying: "What we have is a case of a ticking time bomb."
For the notes from the previous days of the trial, see the Related Links section of the page.