Investigator describes personal purchases Nate Cain ordered with state money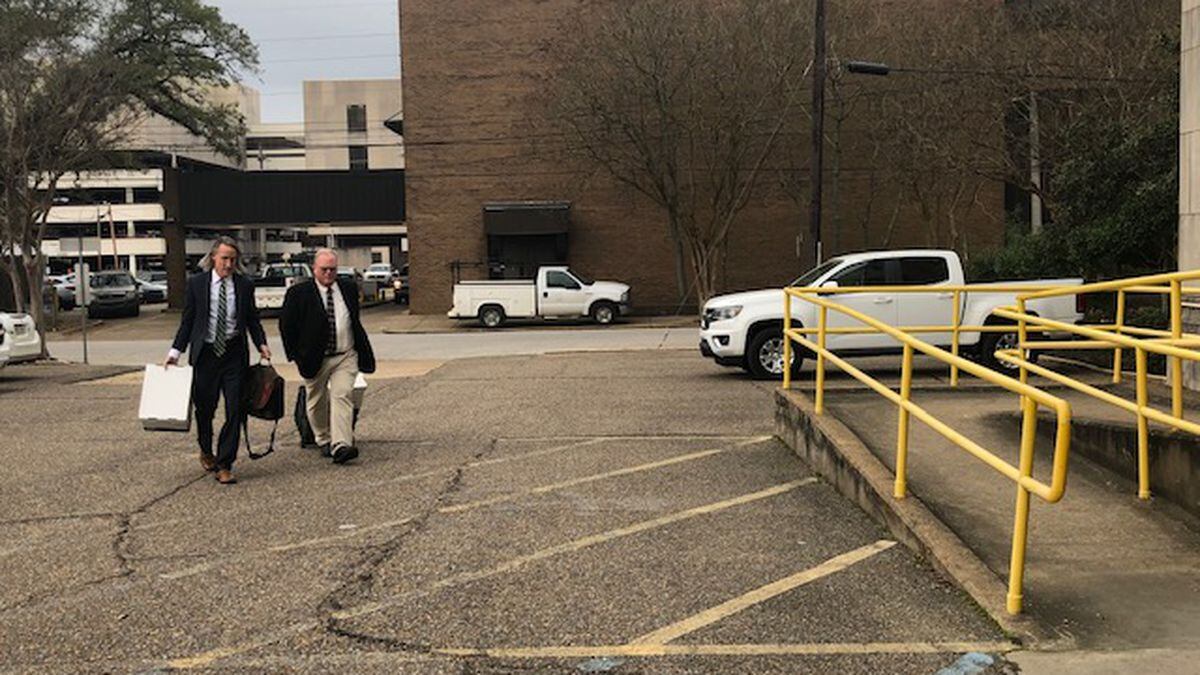 Published: Mar. 12, 2019 at 3:51 PM CDT
Testimony has continued at the United States District Court for the Western District of Louisiana in Alexandria for the trial of Nate Cain, the former warden of the Avoyelles Correctional Center.
Cain is charged with one count of conspiracy to commit wire fraud and 17 counts of wire fraud. He is being represented by John McLindon out of Baton Rouge. Assistant U.S Attorneys Luke Walker and David Ayo are prosecuting the case for the government.
Most of Tuesday's testimony consisted of the same witness who kicked off testimony for the government, Nicole Compton, an investigator with the Inspector General's Office.
Compton and Walker went through a series of request for purchase (RFP) orders and receipts that Compton said were made at the request of Cain for his personal use. Several of the orders were initialed by Cain.
Some of the items were purchased using Jodie Bordelon's state issued p-card on behalf of Cain. Bordelon worked in the business office and was one of Tonia Bandy Cain's best friends. Bandy Cain has already pleaded guilty in the case and is expected to testify against her ex-husband.
According to Compton, Cain had an affinity for purchasing gun parts.
"They were purchased as parts and assembled into guns," she said.
When a RFP is filled out, a three person approval process must take place. However, Compton noted in many cases, the items were purchased before the purchase order was made. The gun parts were tracked to Cain's home and not part of the weapons in the prison armory.
"They didn't use lucid sights on their weapons," Compton said of one of the items purchased for personal use. In some cases, invoices ran upwards of $1,500.
During the approval process, after Bordelon's card was used, often Laura Desselle, who worked in the business office, would stamp off, as would Bandy Cain and Paul Gaspard, a deputy warden. In some cases, Cain's name was listed under the approval process.
Compton described the parts that Cain would order as being mainly "uppers." She said Cain would often purchase "lowers" with his own money, because lowers had serial numbers, alluding to the fact that this was done to conceal the purchases.
Some of the weapons that were built were later resold or traded for items, according to Compton.
The purchases didn't stop with gun parts, Compton testified that she was able to find purchase orders and receipts for everyday personal items like tires, laundry detergent and pet supplies.
"I was able to determine that's not the way it's purchased for prison dogs," said Compton, referencing that the pet supplies were purchased for family pets and not prison dogs.
When it came to cleaning supplies, Compton said it would be unusual for Bordelon to purchase those items because it wasn't her job responsibility.
"This wouldn't be normal, Jodie didn't purchase cleaning supplies," she said.
Some of the other items Compton said she was able to trace included TVs, more than $250 worth of K-Cups, more than $100 worth of Glade plug-ins, and Beats by Dre headphones.
Photos were taken inside the Cain residence during a search warrant after they had already left the property and did not include photos of a ranch house that was being built near the front gate.
Compton also found receipts for furniture that was purchased on a p-card. She also explained that the prices would also be reworked to keep items under $1,000 to prevent them from being tagged and inventoried as prison property.
For instance, a children's pink princess chair was marked as $500 and a sectional set, which retailed for more than $1,300, was marked as $999. Compton said the money from one product was rolled over to another to conceal the cost.
During cross examination, McLindon pushed back on some of the items that were allegedly ordered by Cain. He specifically asked if there were any regulations from the Department of Corrections about which brand names you can buy, pointing to pricey Yeti coolers that were seized.
"No," said Compton to the question. "I think they want you to exercise caution."
McLindon also asked if Compton was aware that coolers were used around the prison because there was no air conditioning. He also asked her if she knew if Cain had already owned some of the coolers prior. Compton said it was "possible."
McLindon asked Compton if, other than perishables, there was anything that the state did not have in its possession right now. Compton said a lot of it was left behind at the house. Later on, she said a gun safe that was bought with a p-card was left behind full of guns, but it was locked and they had to call someone to break the lock and seize the items inside.
McLindon pointed out that there were no state laws at the time prohibiting the warden from buying furniture for his house. Compton said there were no specific rules as to furniture, but the rules were that purchases had to benefit the Department of Corrections and the state.
After a lunch break, questioning continued about headphones that were purchased.
"Those headphones...some were purchased with Jodie Bordelon's card, some with Andrea Bordelon's, Deborah Gauthier...Andrea Bordelon and Gauthier advised Nate would borrow their p-cards. I believe many things were purchased...including headphones," she said.
As far as the grocery items that were purchased using state money, McLindon asked if Compton had knowledge that Cain was even home when the groceries came in.
"No. I don't," Compton testified.
Testimony continued after Compton wrapped up with Laura Desselle.