NSU alumnus Ted Jones, veteran attorney and lobbyist, dies at age 85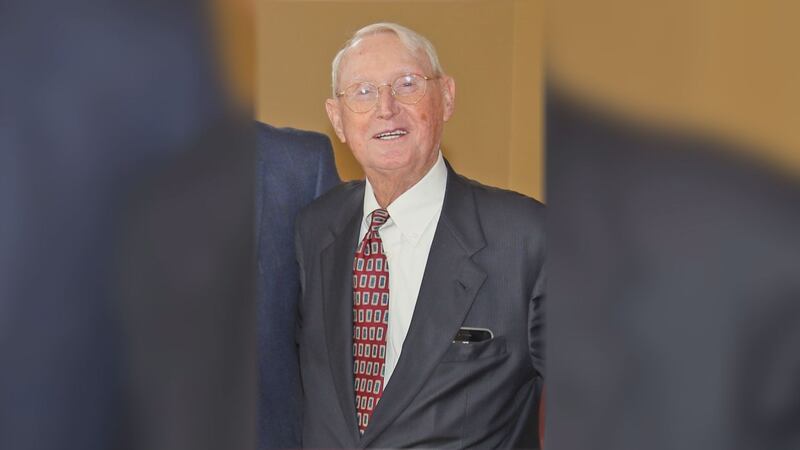 Published: Aug. 12, 2019 at 7:51 PM CDT
Baton Rouge attorney and lobbyist Theodore "Ted" L. Jones died Sunday at his home in Baton Rouge. He was 85.
Jones was a prominent Louisiana attorney who provided counsel to governors, members of Congress, U.S. Senators and presidential candidates.
A native of Tifton, Georgia, Jones earned a bachelor's degree in business administration at Northwestern State with special studies in accounting and economics in 1960. He received a Juris Doctorate at the University of Mississippi in 1963 and a Master of Laws in Taxation from the Georgetown University Law Center in 1970.
"I am truly going to miss my dear friend Ted Jones, one of our greatest NSU alumni and supporters," said NSU President Dr. Chris Maggio. "There will never be another like him. He will be forever missed by his Northwestern family and the state of Louisiana, which he devotedly served for over half a century. His was truly a life well-lived."
Jones held the Charles D. Ragus Endowed Chair in the School of Business at Northwestern State. Jones was honored with induction into the NSU Hall of Distinction, the Long Purple Line in 2003 and an honorary doctorate of humanities in 2005. He served on NSU Foundation Board of Directors and the board of the Gallaspy Trust.
"Ted Jones was a true mentor to me, personally and professionally, and was a dedicated and passionate alumnus of NSU. Any time we needed a legal opinion or other assistance, his vast knowledge and network of contacts was an invaluable resource," said Drake Owens, Assistant Vice President of External Affairs and director of the NSU Foundation. "He genuinely cared about the people he came in contact with and had a deep love for his alma mater."
Dr. Margaret Kilcoyne, Dean of the College of Business and Technology said Jones showed personal touches in his dealings with faculty, staff and students that will be long remembered.
"He brought real-world experiences into the classroom regarding the importance of ethics and legal taxation," said Kilcoyne. "His love and devotion of NSU and the State of Louisiana were evident not only in his daily life, but also in his classroom lectures full of witty comments and great stories. Outside of the classroom, Mr. Ted loved to fundraise, host events and share the fruits of his beloved garden with his NSU family. We will miss his gregarious personality, his warm and genuine smile and his giving spirit."
Jones was in private practice since 1963 except for several stints in government service. He served as chief of staff to U.S. Rep. Speedy O. Long and as counsel and special counsel for Medicare to Gov. John J. McKeithen. Jones was on the presidential campaign staff of Vice President Hubert Humphrey in 1968.
He was special counsel to Gov. Edwin W. Edwards for federal affairs, wetlands and transportation from 1984 to 1988 and 1992 to 1996.
Jones was a counsel on the Federal Campaign Act of 1971 for numerous candidates for the U.S. Senate and U.S. House of Representatives. He has also counseled candidates for state and local office on the Louisiana Campaign Finance Disclosure Act of 1975.
He was the author of two books on business and tax planning in closely held corporations and on foreign tax credits.
His service also includes being general counsel for the Louisiana Democratic Party from 1964 to 1988, an elected Presidential Elector from the 6th Congressional District in 1976 and a national committeeman of the Democratic National Committee from 1994 to 1998.
He received the Harvey Peltier Award and an honorary doctor of humanities from Nicholls State University. Jones was inducted into the Thumbpickers Hall of Fame in Muhlenberg County, Kentucky, in 1999 and received the Muhlenberg Sound Award in 2000. He was inducted into the Louisiana Political Hall of Fame in 2007 after previously receiving the Friends of Earl Long and Friends of Jimmie Davis Award. He has been a director of the Louisiana Political Hall of Fame and a member of the advisory board of the Delta Music Hall of Fame. He was honored by LPB in 2018 as a "Louisiana Legend."
Copyright 2019 Northwestern State University of Louisiana. All rights reserved.